Environmental Activity - Social Responsibility 2016
Environmental Activity
Social Responsibility 2016
When Developing Products
Environmental consideration in products
Home-use products are provided in a range of containers. Since these containers are thrown away after the product used out, the Nisshin Seifun Group makes containers and packaging design to be environmental friendly. By offering products and recipes that save energy consmption on cooking, Nisshin Seifun Group is also working to help people's daily life be more environmentally-friendly at home.
Promotion of environment-friendly products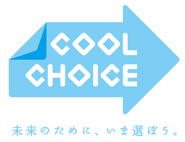 The Nisshin Seifun Group endorse the principles of the national movement called "COOL CHOICE" that encouraging the public to make smart choices by selecting environmentally friendly products, services and actions in daily life. We promote this by offering lifestyle-improving and environmentally-friendly products that help save energy for cooking and reduce packaging waste at home.
Reducing energy consumption at the cooking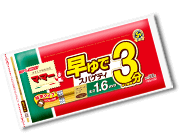 It takes seven minutes to boil 1.6mm spaghetti (our standard product), but that is enough only three minutes for our quick boiling pasta "Hayayude Spaghetti." This allows consumers to reduce the energy required to cook the spaghetti, while still retaining a delicious al dente.
Efforts to reduce waste from containers and packaging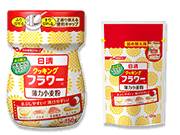 Nisshin Cooking Flour is smoother and softer granulated wheat flour prepared with a compact bottle-type container. By having consumers refills and continuously use the same plastic containers, it causes to reduce the use of plastic resources and the disposal of containers.
When Creating Products
Promoting energy conservation
By introducing energy saving equipment, and improving production efficiency, the Group has, and continues to work to reduce energy use. By taking examples of highly efficient energy saving measures and rolling them out to other plants, the Group as a whole can reduce carbon dioxide emissions. By promoting energy saving activities throughout the Group, carbon dioxide emissions did drop, but from 2013 they have grown again as a result of increased production by overseas subsidiaries, among other things.
Curbing emissions
The Group curbs emissions by, among other things, improving the management of production to balance supply and demand, and improving methods of storing and shipping products. We also work to effectively recycle waste products in plant fertilizer or animal feedstock.
When Transporting Products
We have made an effort to understand the environmental impact of the transportation of our products, and to reduce container and packaging weight, to improve truck loading efficiency and distribution quality, and by sharing deliveries with other companies and otherwise, to reduce the environmental impact.
Transportation by bulk vehicles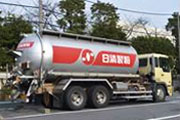 Most of our flour is loaded for transport directly to bulk vehicles with specially-designed tanks. It is enabling to reduce the use of paper bags.
Agreement among the six domestic food producers to create a "food company distribution platform"
The Group aims to improve supply quality generally by achieving an efficient and stable supply system that contributes to "development of the food products industry and supply chain overall."
While handling the many changes in the supply and distribution environment that each company cannot resolve alone, the Group is also meeting its social obligation to reduce CO2emissions, and preserve the environment.
Maintaining the Gift of Nature into the Future
Consideration for Biodiversity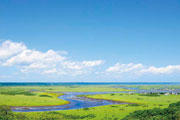 The blessings of nature are essential for the business and products of Nisshin Seifun Group.
Biodiversity, business activities and our daily life are inextricably linked. At Nisshin Seifun Group, we provide information and opportunities for employees to understand these link. We are also proud to play a part in maintaining the natural blessing that underpins healthy and happy human life through our support for the authorized NPO Kiritappu Wetland National Trust and the Keidanren Nature Conservation Fund.