Environmental Report - Social Responsibility 2013
Environmental Report
Social Responsibility 2013
Recognizing that our business activities affect the entire planet and that protecting the global environment is essential for our survival and activity, we work voluntarily and proactively to protect the environment under the Nisshin Seifun Group's Basic Environmental Policy, including initiatives to reduce waste and CO2 emissions and to effectively use resources and energy.
Material Balance
We have identified the major environmental impacts of our operations as electricity and water consumption, CO2 and waste emissions. We strive to promote effective environmental management and reduce environmental impacts through such means as understanding our footprint from production and distribution to consumer use and eventual disposal of residual packaging.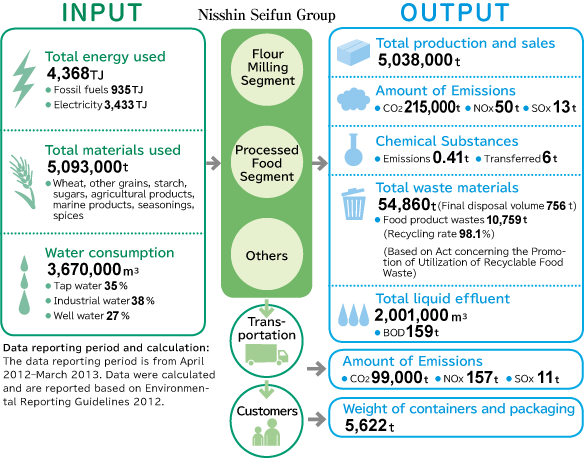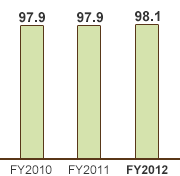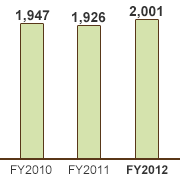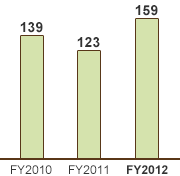 *Based on Act concerning the Promotion of Utilization of Recyclable Food Waste
Environmental Management
Under the leadership of the Director for Environmental Issues, we implement our Group Environmental Policy to conduct business in an environmental responsible manner. We evaluate each business site, including offices and plants for compliance with laws and regulations through internal audit according to our stringent standards. We also ensure our continuous improvement through groupwide certificated Environmental Management System under ISO14001.
Scope of Group ISO14001 certification
Japanese production plants, silos, research labs, head office, local office sales departments and other departments at Nisshin Seifun Group Inc. / Nisshin Flour Milling Inc. / Nisshin Foods Inc. / Nisshin Pet Food Inc. / Nisshin Pharma Inc. / Nisshin Engineering Inc. / Nisshin Management & Technical Consulting Inc. / Nisshin Associates Inc. / Nisshin Grain Silo Inc. / Hanshin Silo Co., Ltd. / Ma•Ma-Macaroni Co., Ltd. / Daisen Ham Co., Ltd.
Group environmental audit record
Number of
operating
companies
Number of
sites
Results
Improvement
orders
Improvement
recommendations
FY2010
10
30
4
6
FY2011
13
30
1
3
FY2012
10
30
1
1
Climate Protection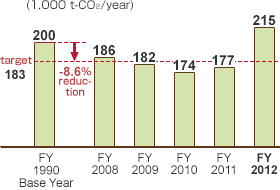 We have been thoroughly reviewing the Group-wide use of electricity by introducing energy-efficient facilities at our plants and energy-saving air-conditioners, lighting apparatuses and OA equipment at our offices, but total CO2 emissions in FY2012 substantially increased mainly due to deteriorating electricity emission factors following the suspension of nuclear power plant operations.
Starting from FY2008, our Group has been striving to reduce CO2 emissions by 8.6% compared with FY1990, with FY2012 as a final target year. However, total emissions for the five years unfortunately fell slightly below the target due to the unfavorable results of FY2012.
We will promote the use of energy-efficient facilities and renewable energy together with the promotion of reviewing operational management. We will pursue various approaches.
Waste Reduction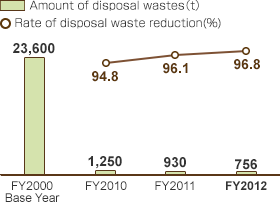 We actively worked on reducing waste on a group-wide basis by improving production efficiency and reviewing procedures at the manufacturing division, as well as strengthening supply and demand and inventory management at the sales division. Additionally we made efforts to promote the use of waste for fertilizers and foodstuffs. As a result, final disposal waste in FY2012 reduced nearly 97% from that in FY2000.
Consideration to Biodiversity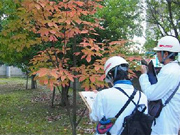 Natural blessings are essential for the businesses and products of Nisshin Seifun Group.
Thus, we provide input and opportunities for employee to understand the linkage of biodiversity with our business and everyday life. Moreover, through support for the authorized NPO to protect Kiritappu Wetland and nature research activities, we are striving to help national blessings underpin the creation of the people's healthy and fruitful lives.
Support for Kiritappu Wetland National Trust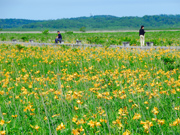 The Kiritappu Wetland is a wetland area in Hamanaka-cho, Akkesi District, Hokkaido, Japan. This wetland is the third largest wetland in Japan. The wetland is home to various flora and fauna. The Kiritappu Wetland is registered under the Ramsar Convention as an important habitat for the waterfowl. In a bid to preserve this wonderful wetland, Nisshin Seifun Group Inc. is assisting the Kiritappu Wetland National Trust, an authorized NPO, which buys private land and develops wetland conservation activities.