Long-Term VisionNNI "Compass for the Future"
Toward a New Stage— Maximizing Group-wide Capabilities
and Effecting Business Model Change
Nisshin Seifun Group Long-Term Vision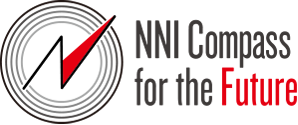 We mapped our long-term vision for the Nisshin Seifun Group
in the "New Nisshin Initiative (NNI) Compass for the Future."
Under this vision, which anticipates structural changes in society
over the next 10-20 years, we accelerate to maximize our corporate value.
We aim to maximize our corporate value
by realizing our vision through initiatives
focusing on three goals.
To achieve sustainable growth, we must not only utilize our strengths and advantages, but also clearly identify risks and opportunities and respond effectively to both from a medium- to long-term perspective. When we formulated our long-term vision for the Nisshin Flour Group in 2018, we committed ourselves to three goals leading to the improvement of our corporate value.
Our Goals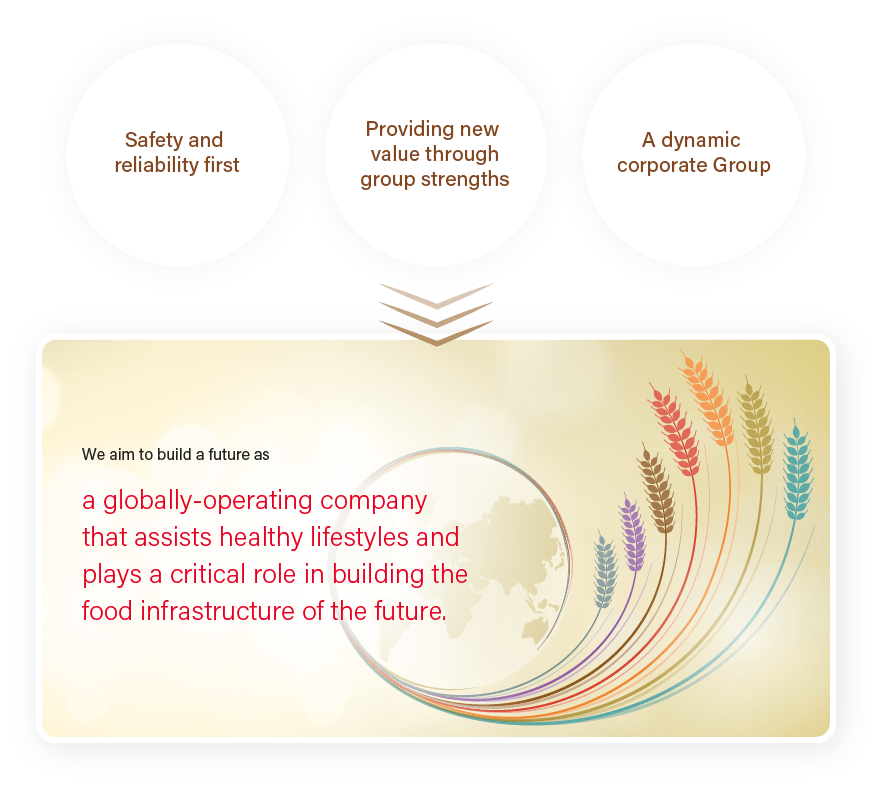 Our Reasons for Working toward this Vision
Major changes are transforming the world today, and we need to take up
the challenge of moving to a new growth stage.
Our strength has been sustained by robust foundations built on a corporate philosophy that emphasizes trust. Today we face new challenges as the world is transformed by major trends, including global demographic changes, and worsening environmental and food resource problems. Among the changes that are especially relevant to the Nisshin Seifun Group are dietary diversification, rising awareness of health and safety, and technological innovation.
The Nisshin Seifun Group is determined to achieve sustainable growth in this changing world by accurately identifying and overcoming risks and turning them into opportunities. We are equally determined to use the added value created in this way to contribute to society. We call this concept "cyclical growth".
The Meaning of Cyclical Growth for the Nisshin Seifun Group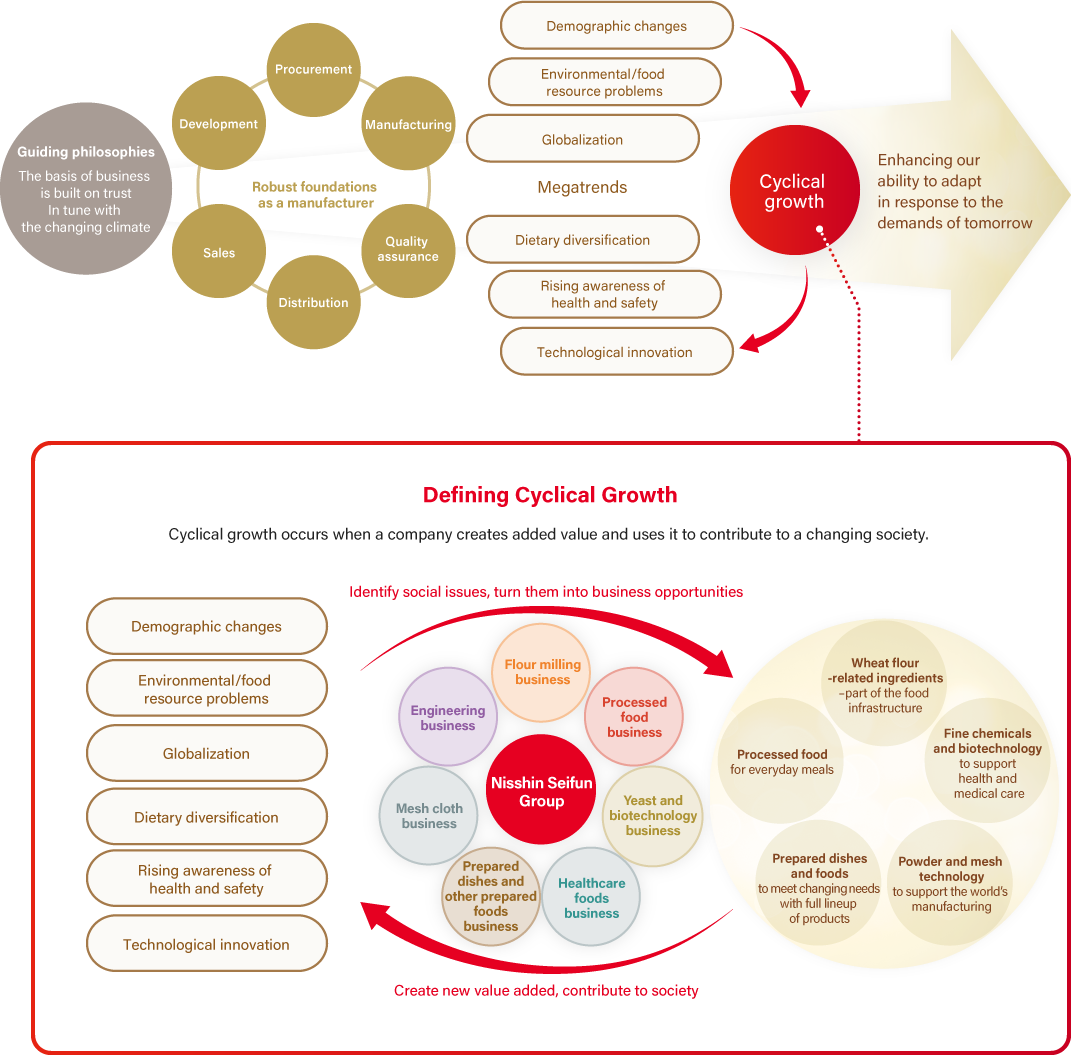 We will maximize the Group's capabilities by using our strengths in three types of collaboration: intra-business,
inter-business and external.
The key to growth under our long-term vision is our group-wide capabilities. In addition to our expertise with materials based on wheat flour, which is vital element in the food infrastructure, we have also accumulated technology and knowledge in a wide range of other fields, including fine chemicals, biotechnology, and powder and mesh technologies. We will maximize our group capabilities through initiatives based on collaboration across these different areas.
Three Types of Collaboration and Target Domains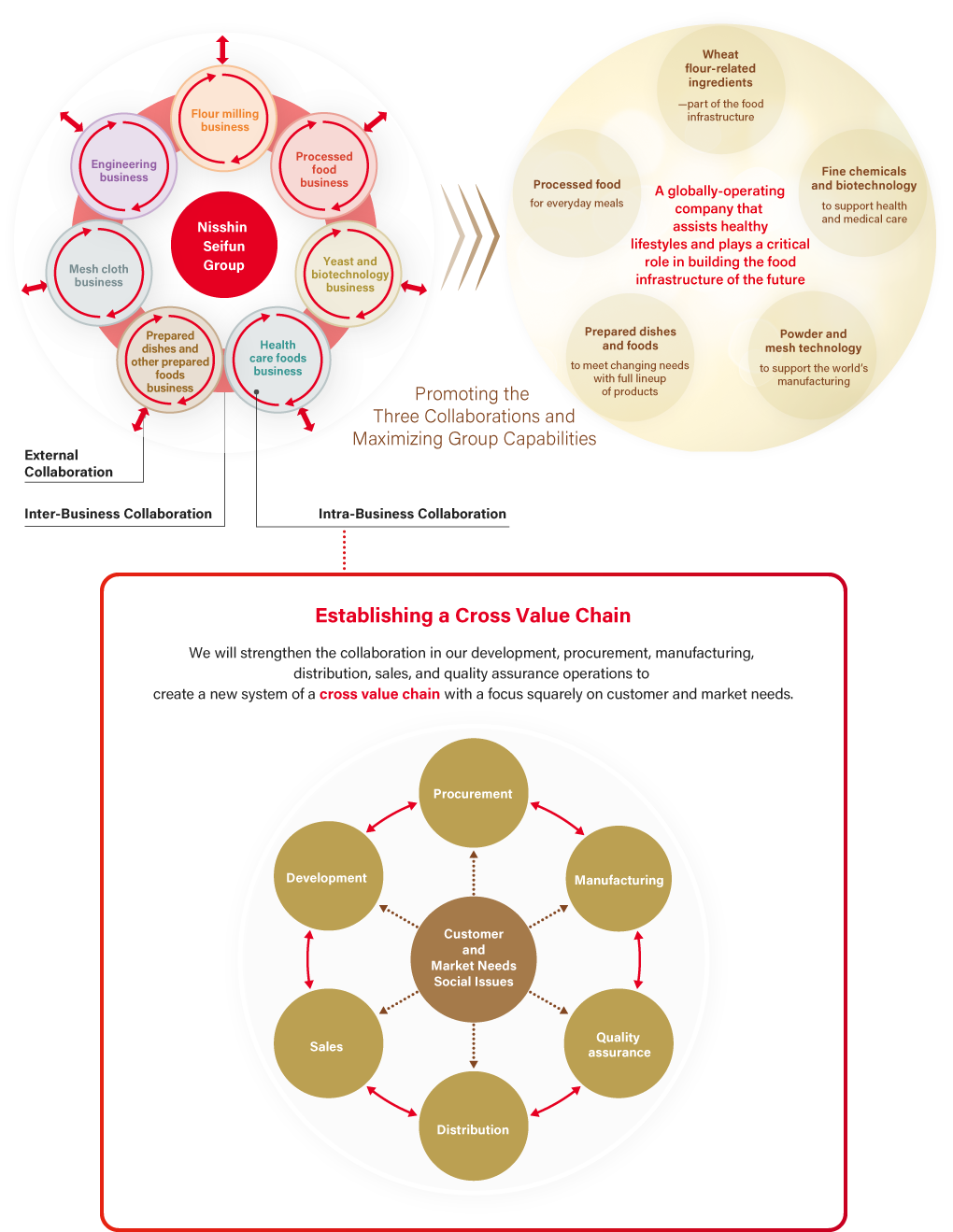 Our growth strategy calls for further evolution of our existing business models, and further enhancement of our business portfolio.
We are taking two approaches to enhancing our business competitiveness in our growth strategy to fulfill our corporate vision.
Remodel Existing Businesses.
Changing our business models involves not just advancing our strategies for growth, but also considering major alterations to our company structures and business domains. The Group is already advancing various initiatives, including the Nisshin Seifun Group Health Project to develop products for an aging and more health-conscious society.
Group transformation in anticipation of environmental changes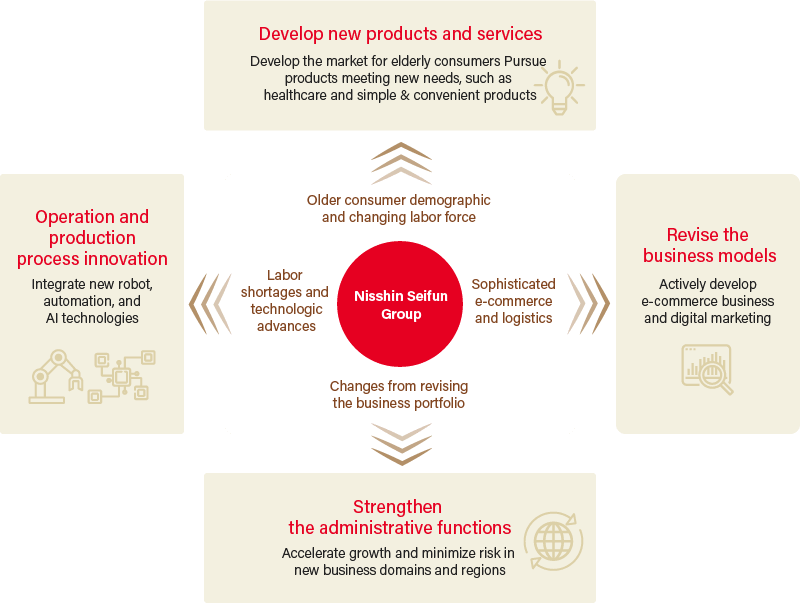 Enhancing the Group Business Portfolio.
We have divided our operations into three categories, each with their own business strategies.

The core category comprises our wheat flour-related ingredients business and the household products business, both of which are highly competitive in Japan. We will continue to build our group income base by maximizing synergies across our extensive lineup of food-related businesses.
Our growth drivers will be our prepared dishes and other prepared foods business and our domestic and overseas yeast and biotechnology businesses, and our overseas flour milling and processed food business. We will add more production sites and expand our production capacity.
The healthcare foods, engineering, and mesh cloth businesses are operations with potential to expand as we infuse them with strengths from across the Group, including our advanced production technologies and quality management systems, our powder technology, and our food plant design expertise.
We are bringing all of these strengths together to galvanize our Group-wide capabilities.