At a Glance
The Nisshin Seifun Group Today
The numbers below provide a snapshot of the current state of the Nisshin Seifun Group,
including its history, management capital, and presence in each business segment.
Founding

The forerunner of the Nisshin Seifun Group, was founded in 1900 to ensure reliable supplies of high-quality wheat flour through domestic production. As Japan's leading flour-milling group, the Nisshin Seifun Group has since diversified into a variety of business areas, while consistently working to meet society's needs as a key contributor to food infrastructure. Our continuing challenge going forward will be to leverage our technology and networks to earn the trust of consumers and help people enjoy healthy lives.
Business Scale

We have established a solid presence in various markets by reliably supplying high-quality products backed by our history and reputation. Our goal for the future is to achieve continuing growth through global expansion and diversification into new business areas, such as prepared dishes and other prepared foods.
Group Management Capital
Human Capital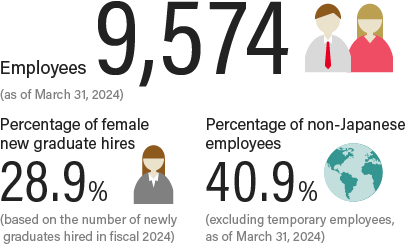 Our diverse human resources are a major driving force for the group. We are committed to the development of good working environments, including career development for women, to ensure that every employee can reach his or her full potential.
*

Seven major operating companies: Nisshin Seifun Group Inc., Nisshin Flour Milling Inc., Nisshin Seifun Welna Inc., Oriental Yeast Co., Ltd., Nisshin Pharma Inc., Nisshin Engineering Inc., NBC Meshtec Inc.
Financial Capital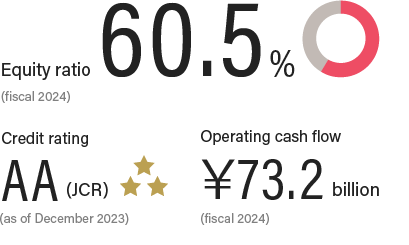 Our goal is to achieve sustainable growth based on a healthy balance with capital efficiency improvement and financial stability. We will accelerate our growth through strategic capital expenditure, M&A, and investment in human resource development and R&D. At the same time, we will continue to fulfill our social responsibility as a reliable provider of food infrastructure.
Intellectual Capital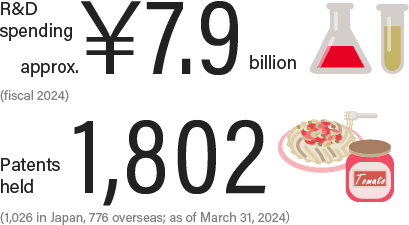 The Nisshin Seifun Group creates new value through R&D combining the shared expertise of the parent company and group companies, as well as external resources.
Manufacturing Capital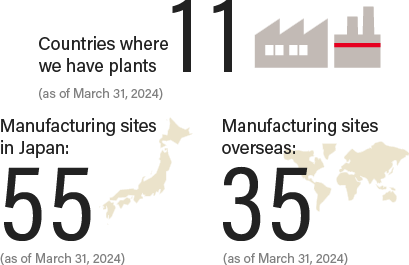 We are enhancing our global competitiveness by procuring high-quality ingredients, by developing products to meet the needs of local customers in each market, and by optimizing our product development and production structures and sales networks.
Note:

Overseas factories produce wheat flour, premix, pasta-related products, frozen foods, and mesh cloth.
Strengths and advantages in each business area
Flour Milling Segment

Processed Food Segment

*

Percentages represent shares of total market sales. The data periods for the No. 1 market shares for flour, pasta (spaghetti), pasta sauce, and frozen pasta (frozen cooked spaghetti and sauce) are April 2021- March 2022, for okonomiyaki pancake flour and tempura mix are April 2020- March 2022, and for karaage deep-fry mix April 2019- March 2022.



Prepared Dishes and Other Prepared Foods Segment

Others Segment