Environmental Protection - Social Responsibility 2017
Environmental Protection
Social Responsibility 2017
We aim to engage in free and vigorous corporate activities while maintaining the environment on a global scale.
Towards the realization of low environmental impact manufacturing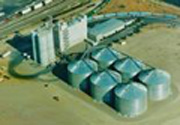 We have established some mid-term goals by 2030 regarding global warming countermeasures and the effective use of resources. While keeping future sustainable business growth firmly in mind, our entire group actively makes efforts toward the improvement of energy saving measures and intensive production efficiency as well as the effective use of resources for the realization of manufacturing with low environmental impact.
CO2 emissions reduction from transportation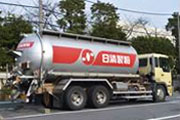 We have made an effort to understand the environmental impact of the transportation of our products, and to reduce container and packaging weight, to improve truck loading efficiency and distribution quality, and by sharing deliveries with other companies and otherwise, to reduce the environmental impact.
Our group's Environment Management System
Our group uses the ISO 14001 environmental management system (EMS). Our integrated certification is not only for production sites but also for the entire group including offices, sales offices and research institutes, and promote environmental management. Full scale of the revised ISO14001 (2015 ver.) application has confirmed that we use the system effectively and practice environmental management integrated with the business by independent organization.
Our products help environmental friendly practices at home
Our products that are designed to help to reduce food waste and heat energy use while cooking at home, and also cause to the CO2 emissions reductions with environmental friendly practices.
"Hayayude Spaghetti" or quick-boil type for thick spaghetti
The four-winged windmill shape of spaghetti has helped shorten the boiling time from 11 minutes (our standard product) to four minutes for spaghetti-1.8mm in diameter, and from 14 minutes (our standard product) to 6 minutes for a spaghetti-2.0mm in diameter. Our technology that enabling "Quick-boil type for thick-spaghetti" was highly acclaimed for its technological contribution to the food industry and awarded in the product/ technology category by food industrial news media in 2016.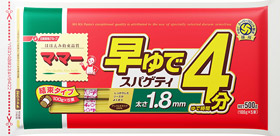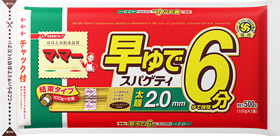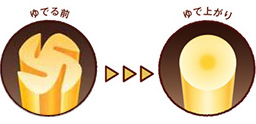 Bottle type series
Nisshin Cooking Flour is smoother and softer granulated wheat flour prepared with a compact bottle-type container. Special designed bottle cap enabled to shake out flour in just the amount needed. It helps efficient use of food material and reduces food loss and waste at home. In additionally, by having consumers refills and continuously use the same plastic containers, it causes to reduce the use of plastic resources and the disposal of containers.