Human Resource Development and Evaluation
Human Resource Development and Evaluation
We enhance the capabilities and motivation of our employees and utilize these qualities in the workplace. We base remuneration on fair evaluations of employees' capabilities, motivation, and performance.
Basic approach
The growth and success of the Nisshin Seifun Group are linked to the growth of each individual employee.
Our basic policy on human resources is respect for all people and mutual trust, combined with the concept that the Company and its employees are partners sharing growth and development.
Human resource development

We aim to cultivate human resources who can constantly set new challenges in a changing environment and work boldly and resolutely toward the achievement of those goals.

Human resource evaluation

Under our merit-based approach, we evaluate individual employees fairly based on their abilities, skills, and efforts, and on the results that they achieve. We are also working to enhance the motivation of employees by using a goal management system to improve the transparency of evaluations and ensure that they are seen as fair by employees, and by reflecting evaluation results in remuneration.

Ability development cycle

We use a variety of human resource development systems to help our employees to build abilities that can be applied to their work and reflected in evaluations. Evaluation results are reflected in remuneration. They are also used by the company in training and evaluation processes designed to enable employees to advance through each stage of their careers.
Human resource development concepts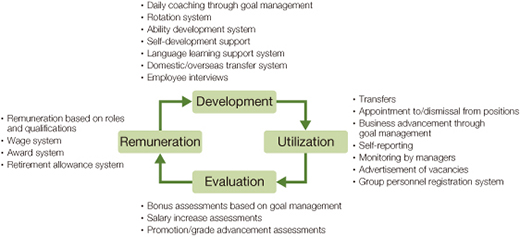 Human resource development system
We have developed a variety of training systems, including training based on employee positions with the focus on the skills and attitudes needed at each level of seniority, a business director development program for next-generation management candidates, programs to develop employees with digital skills and global business knowledge as future growth drivers for the Nisshin Seifun Group, and a self-development support program to encourage independent learning and career-building efforts of employees.
Group-wide training, skill- and job-based training
Our goal is to ensure that all employees, from new hires through to executives, can acquire the skills and abilities needed according to their rank or work activities.
Developing managers
We are implementing the Business Director Development Program to accelerate the development of the next generation of managers. In addition to the Nisshin-Manager's advanced program (N-Map), through which trainees acquire business skills, the ability to implement problem-solving processes, and a management mindset, propose new businesses for the Group, and give a vision speech (a presentation of their aspirations and the roles that they intend to fulfill as business leaders), we have also introduced a system designed to motivate independent learning by sending employees who nominate themselves for participation to study at external business schools.
In fiscal 2023, a total of 106 employees participated in the Business Director Development Program.
Specialized skill development
Developing digital talent
We are improving digital literacy across the entire Nisshin Seifun Group by video streaming programs to enable all employees to learn about core elements of DX infrastructure. We have also introduced DX-related programs for employees at each level of seniority, including new employees. In addition, we subsidize course and exam costs for employees who wish to sit the IT Passport exam. For specialist personnel, we are developing a structured range of essential programs.
In fiscal 2023, we provided online group training in project management for system development with the aim of training core DX people to work within our business processes.
Global business skill development
Selected employees undergo global talent training with the aim of developing employees with global perspectives and the ability to produce results in any environment. The program is designed to enhance cross-cultural communication skills, and leadership and presentation skills in a global environment. We are also working to improve language skills across the entire Nisshin Seifun Group by requiring employees in certain units to sit TOEIC exams within a specified period, and by providing conversational English learning tools and other self-education programs.
In addition, we have established a system under which employees are sent to universities, graduate schools, research institutes, and other institutions in Japan and overseas, with the purpose of building a strong language skill base and training people who can work successfully in a global environment.
Training of technical personnel
We have established a human resource committee specializing in technical personnel to coordinate the systematic development of skills in each specialist field.
The committee works to achieve well-balanced technical and R&D capabilities on a Group-wide level by carrying out highly specialized training, as well as initiatives such as encouraging the obtaining of certifications and placing employees in external training programs.
Providing support for self-directed career development
We support the independent career formation of individual employees. Therefore, we provide career-focused training, which is group-based training that encourages participants to consider their own strengths and career future, followed by interviews with officers. We also established the N-College program to support the cultivation of self-development mindsets.
Training systems
Hours spent on employee skill development

| | FY2021 | FY2022 | FY2023 |
| --- | --- | --- | --- |
| Total training time (hours) | 39,034 | 54,011 | 96,227 |
| Time per person (hours) | 12.7 | 18.1 | 23.3 |
Human resource development expenses

| | FY2021 | FY2022 | FY2023 |
| --- | --- | --- | --- |
| Total training costs (millions of yen) | 114 | 240 | 355 |
| Cost per person (thousands of yen) | 37.0 | 80.4 | 85.8 |
* Figures for fiscal 2021 relate only to group-level training and do not include training provided independently by individual companies.
Figures for fiscal 2022 include group-level training, training provided and participated in independently by individual departments of Group companies.
Scope: Nisshin Seifun Group Inc., Nisshin Flour Milling Inc., Nisshin Seifun Welna Inc., Oriental Yeast Co., Ltd., Nisshin Pharma Inc., Nisshin Seifun Delica Frontier Inc., Nisshin Engineering Inc., NBC Meshtec Inc., Nisshin Associates Inc., Nisshin Grain Silo Inc., Nisshin Seifun Premix Inc., Tokatsu Foods Co., Ltd., Joyous Foods Co., Ltd., Initio Foods Inc., Nisshin Petfood Inc.
* Figures for Tokatsu Foods Co., Ltd., Joyous Foods Co., Ltd., and Initio Foods Inc. cover the period after fiscal 2023.
* Figures for Nisshin Petfood Inc. cover the period up to fiscal 2021
Training programs (abridged list)
For all employees

New employee training (group-wide)

Second and third year follow-up training for new employees

Compliance training
Assessment training
Training for new managers
Training for new organization heads
Training for new evaluators
Administrative career advancement training

Skill/job-based training

Business manager training program

Psychological safety enhancement training

Training before overseas transfers
Labor manager training
OJT leader training
Credit management training
Follow-up training for mid-career recruits
Mentor training
Job training (e.g., sales training)

Technical skill improvement training

External training
Safety and environment training
Electrical engineering and digital training
Specific technical training
Leader development training

"Get Up" program

New employee training
Basic training for facility staff
Follow-up training for new employees
Equipment maintenance training (second-year employees)
Analytical technology training (third-year employees)
Fourth-year training
GU graduation training (sixth-year employees)
Technology exchange training

Career approaches, self-development training

Career training (at the ages of 28, 35, and 50)
Self-development support program N-College (correspondence courses, etc.)
In-house language tests (TOEIC)
External training in Japan and overseas (e.g., short-term language courses, law school and MBA courses)
Global business skill training
Human Resource Evaluation—Goal Management System
We have introduced a goal management system as a mechanism to ensure fair and objective evaluations of employees. Employees meet with their supervisors twice each year to set goals. They also have half-yearly interviews to review their achievements. The goals set are based on the level of each employee's job requirements. Supervisors monitor employees' work performance as they reach their goals and develop their skills through day-to-day coaching. The review interviews are also used to check employees' progress toward their goals, their self-assessments, and the processes through which they achieved results. Interview results are reflected fairly in evaluations.