Communication with Shareholders and Investors
Communication with Shareholders and Investors
Basic approach
The basic policy of Group management is to maximize corporate value in the long term. We aim to utilize assets efficiently while maintaining high profitability and the ability to realize steady growth as well as to pay appropriate dividends. At the same time, we strive to maintain the trust, high opinion, and correct understanding of all stakeholders by continuously disclosing information in a timely and appropriate manner.
As a Group, we work toward long-lasting development by pursuing fair profits through sound business activities and by ensuring appropriate returns for our stakeholders.
Our employees work diligently and apply creativity and tireless innovation to enhance business results and fulfill the expectations of our stakeholders, including shareholders.
Information disclosure policy and structure
In September 2006, we formulated our Disclosure Policy and Disclosure Rules in order to clarify our approach to information disclosure.
We have established a Disclosure Committee to ensure that procedures are followed thoroughly on a Group-wide basis and should a crisis, such as a major disaster or accident, occur, we will strive to ensure that information, such as the impact on financial statements, is disclosed in a timely and appropriate manner.
Shareholder returns
We aim to meet the expectations of our shareholders by raising dividend payments based on a benchmark consolidated payout ratio of a minimum of 40% while also taking into account current and future profitability and financial standing.
Shareholder Returns (Japanese)
Stock Information (Japanese)
General meeting of shareholders
We have positioned the general meeting of shareholders as the Group's highest decision-making body and as an important venue for communicating with shareholders. Since 2008, we have also enabled institutional investors in Japan and overseas to exercise their voting rights through an electronic voting platform.
Shareholder benefits system
Shareholders with a holding of 500 shares or more receive gifts of the Group's products.

Shareholder Benefits (Japanese)
Enhancing communication with institutional investors and analysts
We have established an Investor & Shareholder Relations Office and strive to maintain a mutual understanding with institutional investors and analysts through information sharing and direct dialogue.

Holding financial results briefings
We hold financial results briefings twice a year and strategy briefings when necessary. The financial results briefings include an explanation of management strategy and business results by top management and are also venues for proactively exchanging opinions with institutional investors and analysts.
Holding plant tours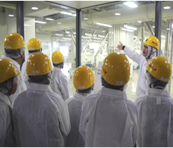 We strive to create a greater understanding of our business among stakeholders by holding plant tours, in which visitors can tour actual production sites to see how we realize safety and reliability through quality assurance systems, our high levels of productivity, and our environmental initiatives.
Individual meetings
We receive opinions and requests from institutional investors and analysts through individual meetings (including interviews and visits to individuals). This feedback is reported to top management and used as a reference for business operations.
Enhancing information disclosure tools
We disclose information to shareholders in Japan and overseas through our website. Materials available include financial statements, securities reports, business reports, and 10-years' worth of financial data, including balance sheets, profit and loss sheets, and cash flow statements.
We create English versions of important materials to improve convenience for overseas investors, and these are also available on our website.
External evaluation of the Group (Inclusion in SRI indices)
The Group's CSR activities have received positive external evaluations in Japan and overseas, and we have been chosen for inclusion in Socially Responsible Investing (SRI) indices including the FTSE4Good Index Series.
We have been included in the FTSE4Good Index Series every year since 2003.