Our global business - Social Responsibility 2012
Our global business
Social Responsibility 2012
Nisshin Seifun Group Inc. expands globally,
providing a healthy and fruitful life for more people across the world
The Nisshin Seifun Group Inc. ("NSGI") is creating a healthy and fruitful life for more people across the world by delivering "safe and secure" products to overseas growth markets.
We have targeted an overseas sales ratio of 30% or more
Based on the medium-term management plan, "NNI-120, Speed, Growth and Expansion," we are focusing our efforts on expanding our new overseas businesses to achieve an overseas sales ratio of 30% or more in the near future; we aim to be the world's top milling company in terms of customer satisfaction. To this end, flour milling, mixes, and bakery-related businesses have been developed proactively in growth markets such as South East Asia, China, North America, and other regions.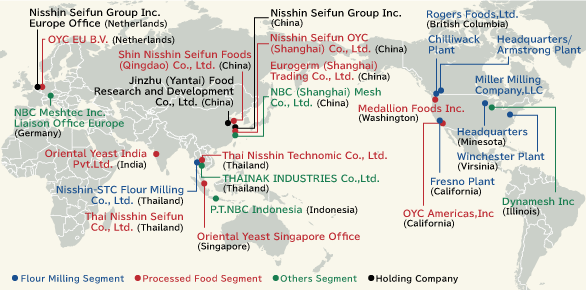 Full-scale expansion into the world's largest market - North America
Acquisition of the 9th largest miller in the U.S., Miller Milling Company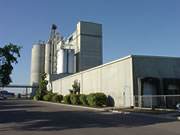 The Nisshin Seifun Group Inc. and Nisshin Flour Mining entered into an agreement to acquire the entire equity of the Miller Milling Company, a U.S. flour milling company.
The Miller Milling Company owns two plants that are strategically located in areas close to consumption regions in the Eastern and Western United States. The company is the 9th largest flour milling company in the U.S. with extensive experience and state-of-the-art technology. The company primarily produces flour that is used to make pastas and bakery products as well as tortillas. Coupled with the existing business bases of the Miller Milling Company, we will take advantage of the strengths of our flour milling operations such as outstanding technological capability, product development capacity, and the capacity to consistently supply high-quality flour. Through these efforts, we will tap into new markets and further expand our businesses. In addition, thanks to the Group's synergy benefits with Rogers Foods Ltd. (manufacturing and selling of wheat flour), we will accelerate our business growth in North America through our group company located in the province of British Columbia in Canada.
Business expansion in the Asian market
Thailand: 20% increase in flour production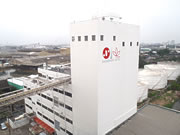 Nisshin-STC Flour Milling, our manufacturing base in Thailand, was established in 1991. The business has been aggressively expanding its flour milling capacity in South East Asia by using NSGI's technological capabilities as well as its product development and customer services expertise. In the future, the plant's production capacity will be increased by 20%, thereby further strengthening its supply structure and ensuring higher sales growth, which includes increased exports to Thailand as well as South East Asia.
China: business expansion to continue
The bread and cake market in China has seen double-digit growth annually. Our Chinese subsidiary, Shin Nisshin Seifun Foods (Qingdao) Co., Ltd., which celebrated its 10th anniversary this year, primarily manufactures and sells premixes for breads. Eurogerm (Shanghai) Trading Co., Ltd., a joint venture company with the French Eurogerm S.A., sells bread improvers and other products in China. Moreover, Japan's Oriental Yeast Co., Ltd. exports commercial ingredients for breads to China. These companies are expanding their businesses by targeting Chinese bakeries and flour milling companies by using their collective capabilities in collaboration with the Nisshin Seifun OYC (Shanghai) Co., Ltd.
India: full-scale entry into the Indian market
Nisshin Seifun Group Inc. and Oriental Yeast Co., Ltd. together established OYC India Private Limited, an overseas subsidiary, which serves as a base for operating activities.
India is becoming a global manufacturing base for generic drugs and is a promising market for a biotechnology business. In addition, India is also regarded as a large market for a foods business, because consumers are accepted European food culture; moreover, India's large population and significant economic growth are strong growth drivers for a foods business. Since 2006, Oriental Yeast Co., Ltd. has been exporting diagnostic reagents and crude materials for drugs to India. The company has also been further expanding the biotechnology business through the establishment of an overseas subsidiary along with actively finding markets for products targeted at bakeries in its foods business.
NBC Meshtec Inc. increases production in Indonesia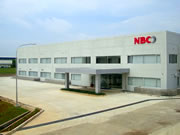 P.T.NBC Indonesia, a subsidiary of NBC Meshtec Inc., completed the construction of its plant in December 2011, thereby doubling production capacity. The company increased the production of mesh cloths and began producing filters for automobiles and home appliances in the summer of 2012.
Topics: Our environmental footprint in overseas businesses
United States
Pray for Japan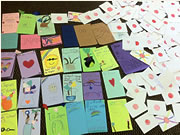 OYC Americas, Inc., a U.S. corporation of Oriental Yeast, collected messages for the victims of the Great East Japan Earthquake for a weekat the cafeteria of the building where the office of the company is located. Through the efforts of its staff, this activity spread to kindergartens, elementary schools, and boy scouts, and more than 200 messages were collected. These messages were translated into Japanese and delivered to elementary schools and relief camps in Miyagi Prefecture before June 2011.
Thailand
ISO14001 certification acquired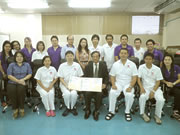 Thai Nisshin Seifun, a manufacturer of pasta sauce and frozen food for the Japanese market, acquired ISO14001 certification, the international standard for environmental management systems, in November 2011.This is the first attainment for our overseas business. Thai Nisshin Seifun Inc. will continue to implement and strengthen their environmental management through the PDCA cycle along with their growth of business.
Canada
Helping victims of the Haiti earthquake
Rogers Foods Ltd. in Canada donated wheat flour to children affected by the Haiti earthquake in January 2011. The flour was baked into bread at local bakeries and was then delivered to orphanages in Haiti. The bread was also distributed to children and local people who were left homeless.