Medium-Term Management Plan 2026
Medium-Term Management Plan 2026
The Group launched the Nisshin Seifun Group Medium-Term Management Plan 2026 in fiscal 2023. The new five-year plan to fiscal 2027 was formulated to reflect anticipated near- and medium-term changes in the business environment. Following our guiding philosophies and corporate principle, we will fulfill our mission to provide a stable supply of wheat flour and other foods and contribute to society through our business as we continue to grow as a core corporate group in the food industry.
Quantitative Targets
We are actively engaging in strategic investment as we restructure our business portfolio through selection and concentration. The medium-term plan sets targets of 900 billion yen in net sales and 48 billion yen in operating profit in its final year of fiscal 2027.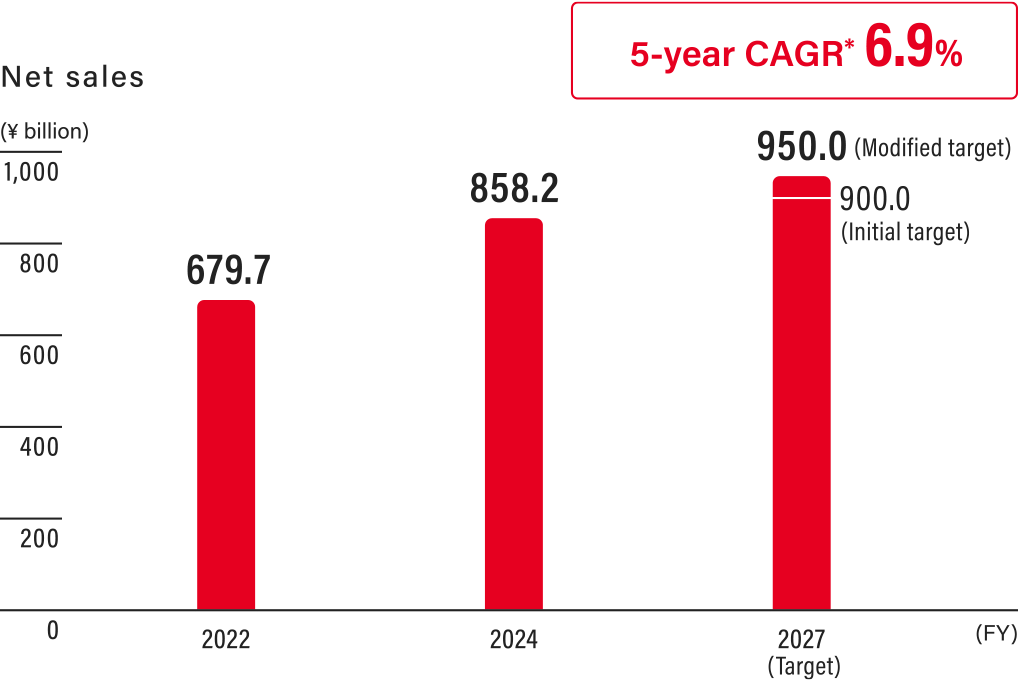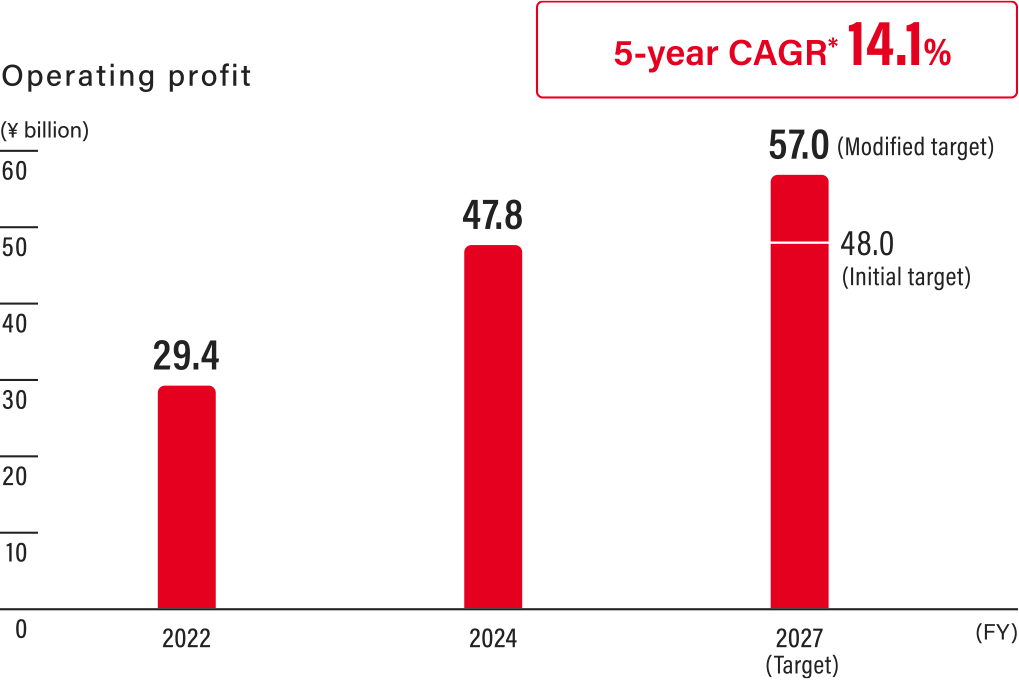 * Compound Annual Growth Rate
Basic Policy
The Group is advancing the three following Basic Policies of the Medium-term Management Plan 2026 toward realizing our Group vision.
Basic Policy 1: Stimulate the Group's ability to grow by restructuring the business portfolio
The strengths of our Group are the high-level technological capabilities and productivity we have accumulated over our 120-year history and our solid sales foundation built on the strong relations of trust with our customers. We will continue restructuring our business portfolio in areas we can take advantage of these strengths to boost our competitiveness in each business area and for the Group overall.
(1) Strategy to enhance business competitiveness
1. Continuation and expansion of the domestic flour milling, processed food, and yeast businesses as core businesses
We will use strengths cultivated in each of our businesses, provide new value to expand our market share, and maintain appropriate pricing for our products. We will also lower costs in various areas to maintain our high profit levels and ensure the domestic flour milling, processed food, and yeast businesses continue to be the Group's core businesses.
Key topics
Creation of synergies with Kumamoto Flour Milling
Preparation of a low-cost production system (cost competitiveness, automation, labor saving)
Cultivation and spread of the Nisshin Seifun Welna brand
2. Growth strategy for overseas business ("made and sold locally" model)
Our medium-term management plan is to build our overseas businesses into a growth driver for the Group by raising their contribution to total Group operating profit from 13% in fiscal 2022 to 38% in the plan's final year of fiscal 2027. New investment overseas will be conducted after verifying the viability of applying our strengths in Japan to the overseas market.
Key topics
Overseas flour milling business
• Improvement of performance in the Australia flour milling business
• Advancement of initiatives to maintain and strengthen high profitability of the U.S. flour milling business and other businesses
Overseas processed food business
• Consideration of future investments (premixes, pasta, pasta sauces, frozen foods)
• Promotion of local sales of processed foods produced at overseas production sites or shipment to Japan
India yeast business
• Achievement of profit growth through smooth launching and reaching full production capacity
3. Growth strategies for prepared dishes and other prepared foods business
The prepared food market is one of the few growing markets in the domestic food industry. We established Nisshin Seifun Delica Frontier Inc. to lead our efforts in this market and ensure cost competitiveness to enable us to win against rival firms. We plan to develop synergies with the flour milling and processed food businesses to generate business growth.
Key topics
Strengthening R&D capabilities (chilled and frozen prepared foods, extension of expiration dates, etc.)
Promotion of labor saving through automation
Collaboration with the flour milling and processed foods businesses to fully leverage our development potential
4. Business direction of healthcare foods and biotechnology businesses
We aim to grow the health and biotechnology business by creating synergies between the personal nutrition (offering personalized health food products) in the health food business and the biomarkers (such as advanced glycation end-products) in the biotechnology business.
5. Business direction of the engineering and mesh cloth businesses
Both businesses have world-class technical capabilities and knowledge and are looking to expand their business ranges either organically or through external collaborations. They will also look to combine their technologies to pursue business collaborations in the electronic components and other markets. The mesh cloth business will leverage its technological superiority to increase its profits by applying its products to applications related to the environment and creating a sustainable society.
6. Taking on the challenge of new businesses
Please see (3) New business development and M&A strategy.
(2) R&D strategy
Secure competitive advantages in Japan and overseas to drive the Group's growth and generate cyclical growth by using our businesses to address social issues and enhancing corporate value.
Research topics in focused R&D areas
| | |
| --- | --- |
| Food ingredients with health functions | Promote R&D on various health functionalities, centering on wheat ingredients, including effects on preventing metabolic syndrome, brain function, and anti-aging, and use our business to extend healthy life expectancy. |
| Processing technology for prepared dishes and other prepared foods | Strengthen competitiveness by promoting R&D on cooking and processing technologies that improve the taste, aroma, color, texture, and other qualities of prepared foods, and R&D on microorganism control technologies that lead to longer expiration dates (waste reduction, including in the supply chain). |
| Food tech | Develop new businesses and secure competitive advantage in existing businesses by engaging in R&D on technologies to solve food-related problems, such as the protein crisis and food loss, with an eye to collaborating with startup companies. |
| Automation | Realize additional labor and energy savings in the prepared dishes and other prepared foods business, the flour milling business, and other businesses by leveraging digital technology (AI, IOT) and robotics technology. |
(3) New business development and M&A strategy
Secure competitive advantage in existing businesses, acquire and nurture businesses that will become the future core businesses succeeding our flour milling, processed foods, yeast, and prepared dishes and other prepared foods operations. Promote new business development through M&A and collaboration with start-ups, anticipating innovation in new areas, such as food tech and functional ingredients.
Target areas for existing and new businesses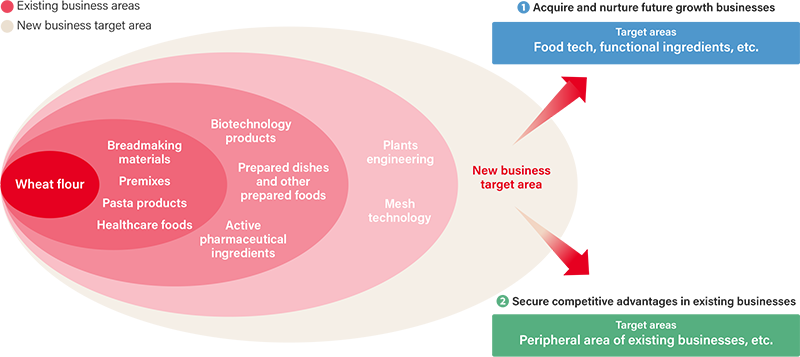 (4) Digital strategy
Actively incorporate digital technology to dramatically improve productivity, revise the business models of existing businesses, create new business models, and enhance our competitiveness. In addition, continuously verify and review our system structure to strengthen resilience against cyber-attacks, and continue securing and training digital technology human resources.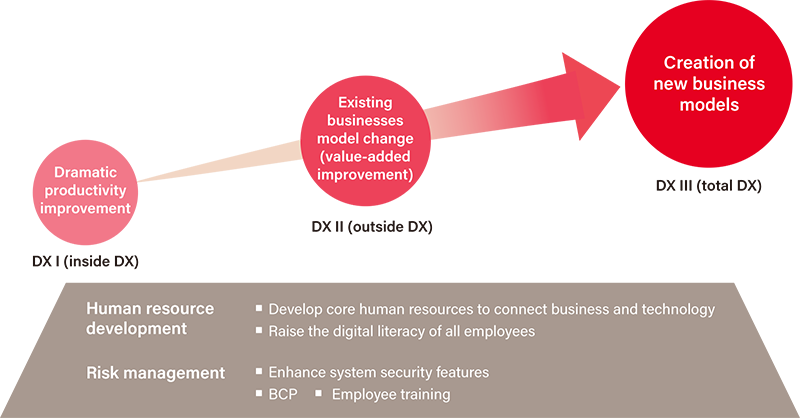 Basic Policy 2: Enhance management by clarifying our business' relationships toward our stakeholders
We recognize that the Group's fundamental purpose is to provide a stable supply of staple foods centered on our wheat flour and other wheat products, and therefore seek to be a company that fulfills the expectations of all stakeholders and is trusted around the world.
The Group holding company Nisshin Seifun Group Inc. and all Group companies will work as one to continue earning the trust of customers and business partners. We are also advancing the HR strategy to revitalize the organization and human resources by optimizing HR allocation throughout the Group, developing management personnel, promoting the active participation of women, and instituting work style reforms.
Shareholders:  Enhance our long-term corporate value to provide appropriate total shareholder return
Customers: Offer value exceeding customer expectations in all aspects of products and services
Employees: Provide appropriate compensation and working environments and support skills acquisition
Business Partners: Engage with business partners fairly, impartially, and with a sense of ethics as equal partners
Society: Work with society and be an eco-friendly company
Human Resource Strategy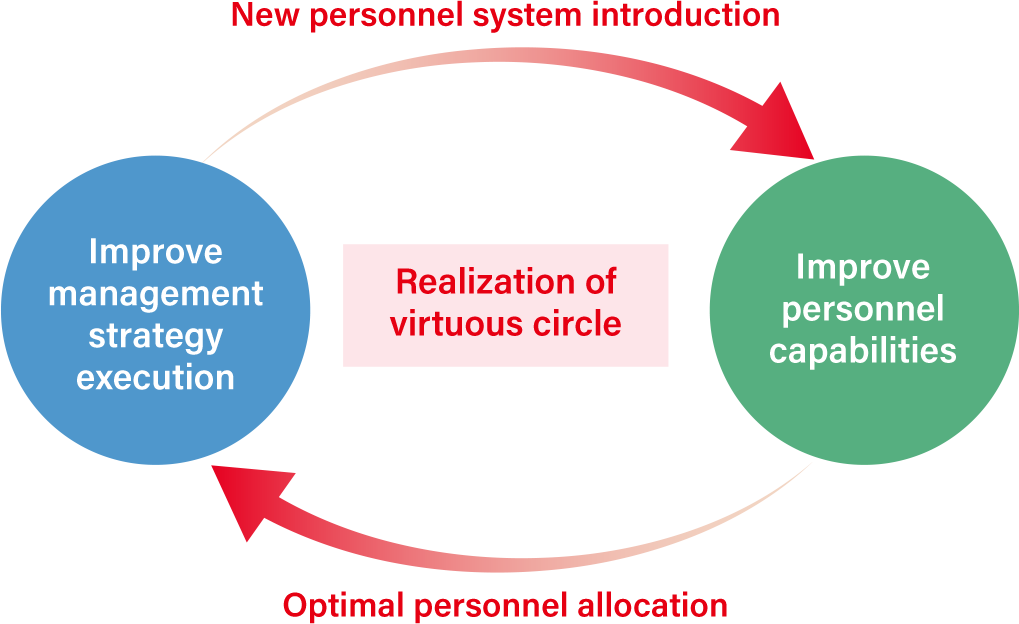 Key topics of the human resources strategy
Strengthen recruitment
Promote diversity
Promote women's participation and career advancement
Improve the working environment

Promotion of work style reforms

➝

Measures to improve psychological safety
Use of the Engagement Survey
Health Management Promotion

➝

Certified Health & Productivity Management Outstanding Organization (White 500)

Strengthen skill development

Management personnel training

➝

Implementing a proprietary "Business Manager Development Program"
Develop digital human resources
Develop global human resources, etc.
Basic Policy 3: Integrate ESG into management strategy, implement by adapting to social trends
Society expects companies to keep pace with social trends and proactively address ESG issues while simultaneously seeking to maximize corporate value. We consider it the responsibility of both the holding company, Nisshin Seifun Group Inc., and each of the Group companies to pursue both of these objectives. Among the ESG issues, we have made addressing environmental issues a management priority for its vital role in global sustainability.
We are maximizing the use of energy-saving equipment and renewable energy to achieve medium- and long-term targets for environmental issues related to climate change, and also considering energy procurement from off-site facilities.
Environment
We have set medium-to-long-term goals of reducing CO2 emissions from Group-owned facilities by 50% compared to the fiscal 2014 level by 2030 and achieving net zero CO2 emissions by 2050. To achieve this, we are installing equipment with maximum energy efficiency and facilities that generate renewable energy, while also considering green energy procurement from off-site facilities.
Society
Our social mission is to provide a stable supply of safe and reliable products. We are clarifying our approach to stakeholders and asking ourselves if we could clearly explain the work we are doing to the consumer in all aspects of our business, including quality assurance. We will also carry out exhaustive human rights due diligence throughout our operations and supply chain to identify any issues and reduce risk.
Governance
The Group maintains a corporate culture of constantly reviewing the status of our governance and implementing any changes needed for improvement. We also continuously review risks, apply and fortify our internal control systems, and maintain constant preparedness for countermeasures. Understanding that it is impossible to eliminate all potential risks, in the event of an emergency, the President of Nisshin Seifun Group Inc. and presidents of the operating companies will take the lead and make every effort to avoid a worst-case scenario.
Capital Policy
Group management maintains control of the capital structure with an appropriate balance of financial stability and steps to improve capital efficiency while giving full consideration to our social responsibility to provide a stable supply of flour and other food staples.
We will use available funds and operating cash flow generated during the five years of the Medium-Term Management Plan for aggressive long-term investment and to continue increasing earnings per share (EPS).
Our efforts to provide shareholder returns include maintaining a baseline dividend payout ratio of 40% and actively monitoring for advantageous conditions for dividend distribution.
(1) EPS growth and appropriate total shareholder return
We seek to increase our earnings per share by strengthening our earnings and sales capabilities and strategically investing (including capital investment, M&A, R&D, digital technologies, and human resources development) to restructure our business portfolio through selection and concentration. Our objective is to maintain a stock price that earns the trust of shareholders and provides an appropriate level of total shareholder return.
Group operating cash flow and targets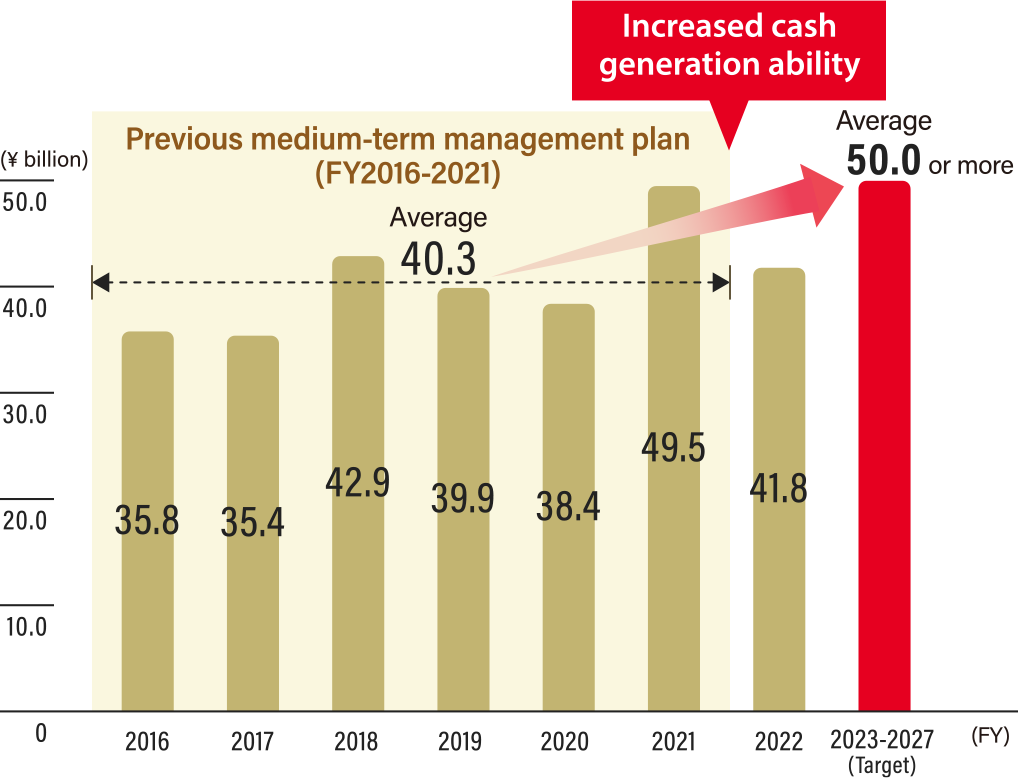 Five-year cumulative cash-flow plan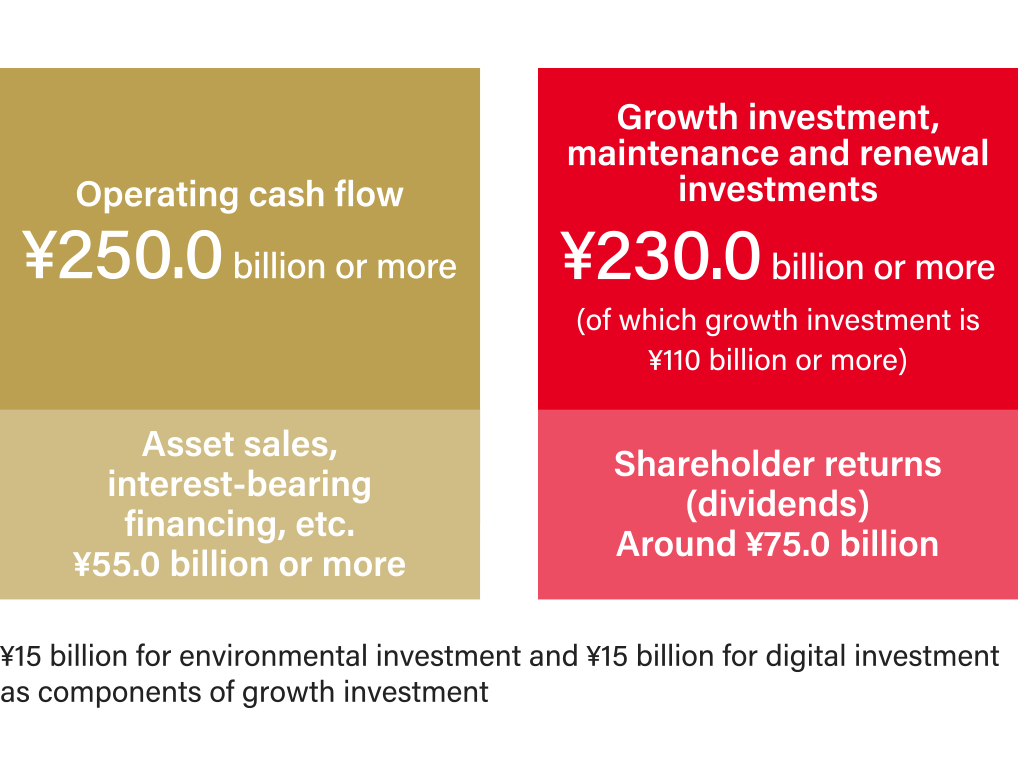 (2) Although our track record of continuously raising the dividend has ended, we are always aspiring to increase the dividend payout
We endeavor to maintain a dividend payout ratio of at least 40%. The dividend amounts will be determined based on our business performance and, although we cannot commit to continuously increasing the dividend, we will do all we can to avoid reducing the payment amount. At the same time, our objective is to increase earnings per share, and we will proactively consider raising the dividend amount at an appropriate time.
EPS and targets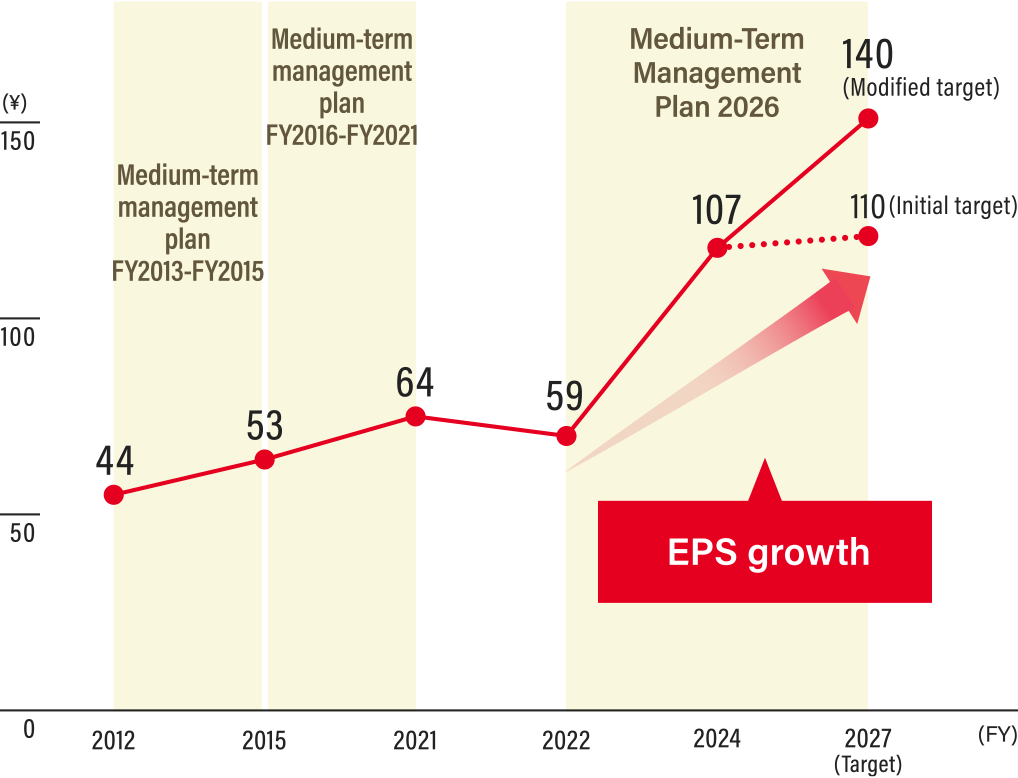 Total dividend and dividend payout ratio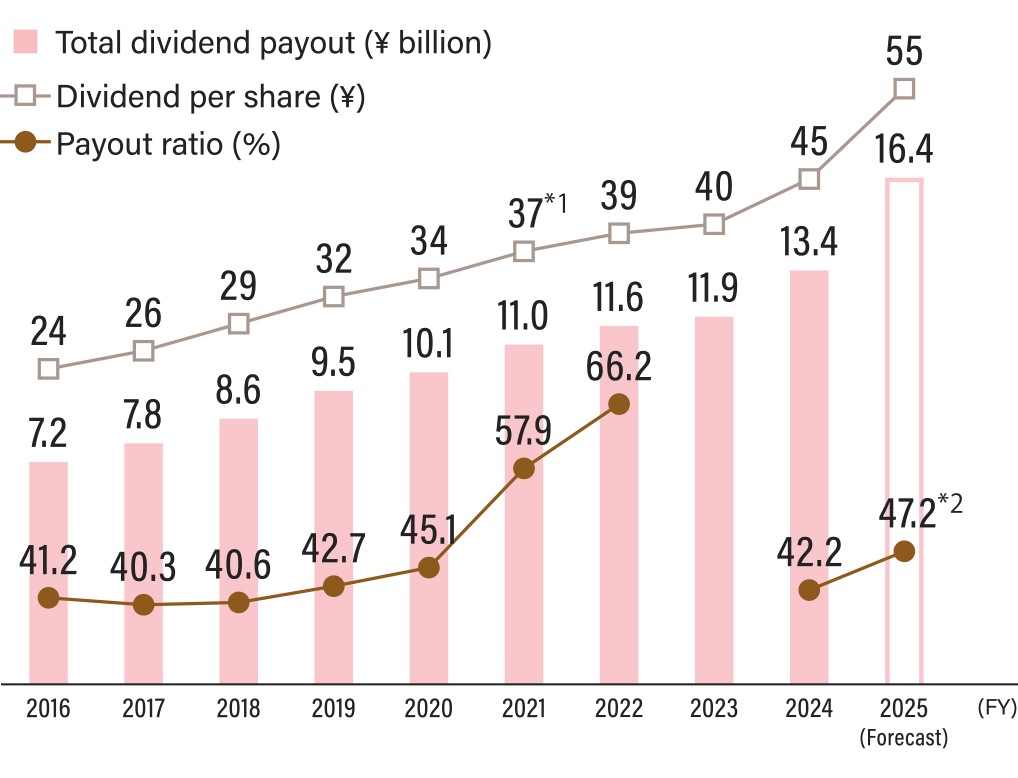 *1 

Stock splits of 1:1.1 were conducted on October 1 of 2013 and 2014. The annual dividend per share was unchanged, but the effective dividend per share increased.

*2 

Fiscal 2021 included a ¥2 dividend per share to commemorate the 120th anniversary of the Company's founding.
(3) Ensuring financial stability based on our social responsibility
Considering the social nature of our Group's businesses, we strive to maintain a stable financial foundation to ensure business continuity in the event of a severe disaster. We will review and steadily reduce our strategically held shares while taking into account the structure of our business relationships, such as strengthening business alliances and joint ventures. As we restructure our business portfolio, we are aiming to improve capital efficiency and effectively manage invested capital to ensure our financial stability.