Local Environmental Conservation Activities
Local Environmental Conservation Activities
Basic approach
Recognizing that our business activities affect the entire planet and that protecting the global environment is essential for our survival and activity, we actively take the initiative to protect the environment under the Nisshin Seifun Group Environmental Basic Policy, including initiatives to reduce waste and CO2 emissions and to effectively use resources and energy.
We participate in cleaning and beautification activities to conserve the local environment at each of our business locations. Going forward, we will work to coexist with each region through our business activities and advance activities that contribute to local society.
Environmental beautification and conservation activities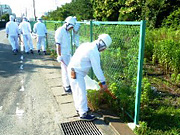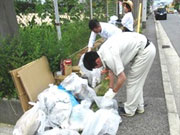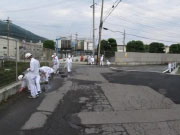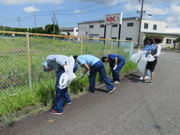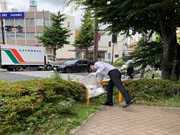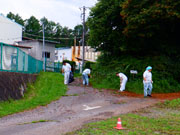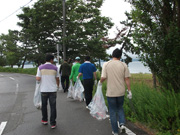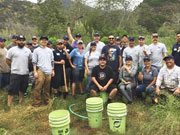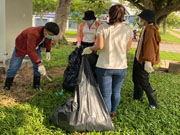 Port cleaning project in Hakodate, Hokkaido (Nisshin Flour Milling Inc.'s Hakodate Plant)
Cleaning Tsutsujigaoka Park in Tatebayashi, Gunma Prefecture (Nisshin Flour Milling Workers' Union's Tatebayashi Branch, Nisshin Seifun Welna Inc.'s Tatebayashi Plant)
Route 18 Zero Trash Initiative activities in Ueda, Nagano Prefecture (Nisshin Pharma Inc.'s Ueda Plant)
Joint road cleaning activity in the local industrial community area in Chita, Aichi Prefecture (Nisshin Flour Milling Inc.'s Chita Plant and Silo)
Lake Biwa Day communal effort to clean the shore of Lake Biwa in Nagahama, Shiga Prefecture (Oriental Yeast Co., Ltd.'s Biwa Plant)
Environmental communication
In addition to releasing information annually through our website, we are also communicating about the Group's environmental activities by responding to various surveys carried out by external parties.
We also work with external stakeholders on a wide range of environmental conservation activities through participation in governmental and private sector initiatives.

Awards
Environmental activities
The 2017 Chiyoda Ward Special Award for Buildings with Exceptional Waste Management (Nisshin Seifun Group Inc.)
Award for Environmental Consideration under the 2016 Chiyoda Ward Global Warming Action Plan Program (Nisshin Seifun Group Inc.)
Environmentally friendly packaging, optimal use of food resources, and time-saving food preparation
2019 Japan Food Journal Award for Exceptional Food Machinery, Materials, and Ingredients, Materials Category (NBC Meshtec Inc.'s fractal awning)
2019 Japan Food Journal Award for the Development of New Technology and Foods (Nisshin Seifun Welna Inc.'s Ma•Ma Palette Fettuccini)
2018 Shokuhin Sangyo Shimbun Merit Award for Food Production Technology (Nisshin Seifun Welna Inc.'s Nisshin Rakuage Bread Crumbs — Ready to Cook Without Wheat Flour and Eggs)
2018 Japan Food Journal Award for the Development of New Technology and Foods (Nisshin Seifun Welna Inc.'s Nisshin Rakuage Bread Crumbs — Ready to Cook Without Wheat Flour and Eggs)
2018 Japan Food Journal Award for Hit Commercial Processed Food Product (Nisshin Seifun Welna Inc. Frozen Mini Pancakes Designed to Be Naturally Thawed)
2017 Japan Food Journal Award for the Development of New Technology and Foods (Oriental Yeast Co., Ltd.'s Nice-Rice Yui and Kai quality enhancing agents)
Minister of Land, Infrastructure, Transport and Tourism's Award, 2016 Green Logistics Partnership Awards
(Nisshin Seifun Welna Inc.)
2016 Good Design Award
(Nisshin Seifun Welna Inc.'s Nisshin Cooking Flower® flour)
40th Kinoshita Award
(Nisshin Seifun Welna Inc.'s Nisshin Cooking Flower® flour)
2016 Shokuhin Sangyo Shimbun Merit Award for Food Production Technology, Product and Technology Category (development of technology for reducing the boiling time of thick spaghetti)
and many more
Environmentally friendly buildings
24th BELCA Award for Best Reform
(Nisshin Seifun Group Inc.'s Nisshin Milling Museum)
2013 Good Design Award
(Nisshin Seifun Group Inc.'s Nisshin Milling Museum)
Environmental Improvement Award in the First Brilliant Enterprise Commendation Program by the Tatebayashi Chamber of Commerce & Industry
(Nisshin Seifun Group Inc.'s Nisshin Milling Museum)
Voluntary participation in governmental and private sector environmental conservation activities
| Activity | Details |
| --- | --- |
| Japan Business Federation (Keidanren) Voluntary Action Plan | The Japan Flour Millers Association, of which the Group's main business company Nisshin Flour Milling is a member, and the Japan Frozen Food Association, of which the processed food business Nisshin Seifun Welna is a member, both participate in the Japan Business Federation's Voluntary Action Plan on the Environment. Under this plan, which aims to reduce the environmental impact of the federation's members, participants work toward targets for realizing a low-carbon society with the goal of achieving these by 2030. |
| Japan Frozen Food Association's Voluntary Action Plan for the Environment | The Japan Frozen Food Association, of which the processed food business Nisshin Seifun Welna is a member, has formulated a voluntary action plan that aims to reduce the environmental impact of the association's members. Participants actively apply 3R (reduce, reuse, recycle) principles to product containers and packaging with the goal of reducing CO2 and CFC gas emissions by 2030. |
| Green Purchasing Network (GPN) | The Green Purchasing Network promotes environmentally friendly purchasing and as a member, the Group works to disseminate information and spread awareness of green purchasing. |
| Cool Choice Campaign | The Group is participating in the Cool Choice Campaign, a Japanese national movement in which participants agree to support wise choices that contribute to the fight against global warming, such as low-carbon, energy-saving products, services, and behavior, while still helping people to realize comfortable lives. Activities include offering lifestyles and environmentally friendly products that enable households to save energy and reduce packaging waste during food preparation. |
| Kyutokenshi Container and Packaging Reduction Commitment | The Group has made a commitment under the Container and Packaging Reduction Commitment initiative being promoted by the Kyutokenshi (nine prefectures and cities in the Greater Tokyo Area). Accordingly, we are working to reduce the volume of containers and packaging we use and to make them lighter. |
| Kanagawa Energy and Environment Classes | We are participating in a program in which companies and other organizations hold experience-based lessons, such as science experiments, at elementary, junior high, and high schools in Kanagawa Prefecture in order to deepen understanding of topics such as environment and energy within the local community. Our contribution is to teach environmental classes, such as how a household can save energy when cooking with wheat flour. |
| Environmental Conservation Activities at Plants – Beautifying Local Environments | We are working with local communities and NPOs at our plants in Japan and overseas on environmental conservation activities such as cleaning and beautifying areas around the plants and local rivers and coastlines, as well as participating in adopt-a programs. |
| Japan Climate Initiative (JCI) | We are a member of the Japan Climate Initiative, a network of companies, local governments, NGOs, and other organizations that have agreed to "join the front line of the global push for decarbonization." |
| Plastics Smart Forum | This is a cooperative effort by a wide range of stakeholders, including individuals, local governments, NGOs, companies, and research institutes, to solve the problem of marine plastics by supporting activities proposed by the Ministry of the Environment. |
| Japan Clean Ocean Material Alliance (CLOMA) | We participate in activities to introduce sustainable-use plastic products or plastic alternatives and to accelerate innovation generated by partnerships between companies. |