Action on Climate Change
Basic approach
Recognizing that our business activities affect the entire planet and that protecting the global environment is essential for our survival and activity, we actively take the initiative to protect the environment under the Nisshin Seifun Group Environmental Basic Policy, including initiatives to reduce waste and CO2 emissions and to effectively use resources and energy.
We are working to minimize the effects of climate change by reducing the amount of greenhouse gases produced through our business activities, including at the manufacturing stage and during the delivery of products and services. We also recognize that climate change affects the Group's business, and we are responding proactively so that we can fulfill our social responsibilities to ensure a stable supply of staple foods such as wheat flour and to deliver safe products through each of our businesses.
Medium/Long-term Targets
To address global warming, in fiscal 2021 the Nisshin Seifun Group set medium/long-term targets to be achieved by fiscal 2030 and 2050. Out of the six designated greenhouse gases we have set targets for CO2 emission reductions as the highest priority in our Group operations.
Our efforts to mitigate the impacts of climate change and minimize business risks include the reduction of our CO2 emissions through the proactive introduction of energy-saving technologies and the use of renewable energy. We will continue to contribute to the realization of a decarbonized society through these and other approaches.
Targets
Targets for 2050:
Reduction of CO2 emissions from facilities owned by the Group to zero
Reduction of CO2 emissions across our supply chains
* We will work toward our targets for 2030 through the same initiatives.
Targets for fiscal 2030:
Reduction of CO2 emissions from facilities owned by the Group by 50% compared with the fiscal 2014 level
CO2 emission reduction results for fiscal 2021
We are reducing energy consumption on a Group-wide basis by introducing energy-efficient facilities and improving production efficiency. We set targets for each fiscal year based on medium/long-term targets and annual planned production volumes.
The target for fiscal 2022 is to be below 392,000 t-CO2.
In fiscal 2021, the total amount was reduced by 6,000 t-CO2 compared to the previous year.
Details of environmental data(1.27MB)
Initiatives in accordance with national and local governmental frameworks
In accordance with frameworks for global warming prevention established by national and local governments, operation sites that produce greenhouse gas emissions in excess of a specified amount are obligated to submit a plan for saving energy and reducing emissions, as well as reports on subsequent progress.
In Japan, operation sites that are subject to the Tokyo Cap-and-Trade Program are required to submit an independently assured report (limited assurance based on verification) to the Tokyo Metropolitan Government.
High level of energy conservation throughout the Nisshin Seifun Group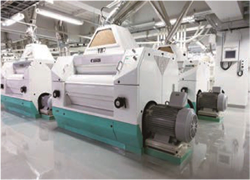 In accordance with the ratings system used by the Ministry of Economy, Trade and Industry's Agency for Natural Resources and Energy to evaluate energy-saving efforts under the Energy Conservation Act, four Group companies have received the highest rating of "Rank S," which designates companies that are excelling at energy saving.
In May 2015, we launched a new state-of-the-art production line at the Nisshin Seifun Chita Plant which incorporates many of the milling technologies developed over our company's long history. We have shortened flour conveying distance through the compact arrangement of production facilities, achieving significant energy savings while stably and efficiently producing flour.
* Energy Conservation Act: Legislation concerning the rationalization of energy use among other matters.
Introduction of a large-scale solar power generation facility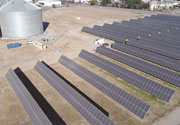 We have introduced a large-scale solar power generation facility at a flour plant operated by Miller Milling Company, LLC in California, an area blessed with abundant sunshine. About 15% of the electric power used by the plant is derived from renewable energy sources. Through this initiative, we are working to realize manufacturing that has minimal environmental impact.
Introduction of renewable energy facilities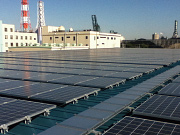 We have introduced a solar power generation facility at Nisshin Seifun's Tsurumi Plant and Nisshin Seifun Welna's Tatebayashi Plant. The facility at the Tsurumi Plant is expected to generate power equivalent to annual consumption of 160 households, and to mitigate its environmental impact by reducing annual CO2 emissions by approximately 250 tonnes compared to a thermal power plant.
Energy saving through lighting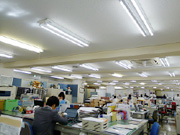 We are actively implementing measures to reduce electricity consumption at each of our business sites. For example, we are installing lighting equipped with LED and motion sensors and paying close attention to how we use air conditioning to adjust temperatures in order to reduce CO2 emissions as much as possible.
Reducing CO2 emissions related to logistics
We monitor the environmental impact of transporting the Group's products and work to reduce this impact through measures such as making packaging and containers lighter, improving truck carrying efficiency and logistics services, and making joint deliveries with other companies.
Collaborating with six other Japanese food product manufacturers to launch F-LINE®, a logistics platform for food companies
In April 2016, we collaborated with five other companies to make our first joint deliveries (non-frozen products) in the Hokkaido region. We are improving transportation efficiency through the joint use of distribution centers and delivery vehicles with the aim of reducing CO2 emissions by around 15%. Our goal going forward is to continue making our logistics systems even more sustainable.
Press releases (Japanese)
Managing CFCs appropriately and reducing emissions
CFC gases that are used as refrigerants in air conditioners, refrigerators, and freezers damage the ozone layer when released into the atmosphere and create a greenhouse effect that is several thousand times more potent than that of CO2. Since fiscal 2016, businesses in Japan are obligated to carry out regular inspections of these types of equipment and report leakage volumes under the Act on Rational Use and Appropriate Management of Fluorocarbons (Revised Fluorocarbon Act).
All Group business sites in Japan and overseas ensure proper management of equipment that uses these CFCs, through measures such as compiling inventories of such equipment, carrying out regular inspections, and upgrading or disposing of it when necessary. We have voluntarily set standards for carrying out this management with the aim of preventing CFC leaks.
We report any leaks involving CFC gas emissions equivalent to at least 1,000t of CO2, in accordance with the Revised Fluorocarbon Act.
Also, we are working toward switching refrigerants and upgrading equipment with CFC-free alternatives, and we are systematically investing capital to replace equipment that uses HCFCs as a refrigerant with the target of fully phasing it out by 2030.
Further measures for mitigating global warming
We have positioned the reduction of CO2 emissions through energy saving as an important issue and to date, we have actively engaged this issue at a high level, including by prioritizing environmental performance when establishing new plants and introducing new equipment, and designing new production line layouts in a way that offers better energy efficiency. Considering the characteristics of our production process, we recognize that it is also important to undertake operational measures, such as upgrading production equipment and realizing more efficient plant operations. Accordingly, developing energy saving technology is a major theme for Nisshin Seifun Group Inc.'s Research Center for Production and Technology and the original energy saving equipment and technology-based measures it has developed are being applied at business sites throughout the Group.
At the same time, voluntary efforts by the Group to reduce emissions at the manufacturing stage require an average of around 150,000 yen of capital investment for every one-tonne reduction in CO2 emissions. Internal carbon prices calculated based on the statutory useful life of equipment are in excess of 15,000 yen per tonne of CO2 and the cost efficiency of energy saving measures is shrinking.
We can contribute to the spread of renewable energy by procuring energy that offers added environmental value, including through green energy certificates received when purchasing energy generated from renewable sources such as solar, wind, and biomass.
We will continue to advance further measures to mitigate global warming by actively engaging in initiatives that contribute to renewable energy usage not only within the Group, but also through all of society.
Reference: The price of reducing CO2 emissions by one tonne using renewable energy in Japan is between 8,000 and 11,200 yen (Source: Document 3 from the Tokyo Emission Trading Seminar held on December 11, 2017)
Effects of the Group's main energy saving equipment

| Initiative | Reduction in CO2 emissions |
| --- | --- |
| Cogeneration facility | 10,000 t-CO2/year |
| Change in fuels (including gas boilers) | 5,000 t-CO2/year |
| Upgrades to other energy saving equipment | 5,500 t-CO2/year |
Installation of energy-saving technology and equipment at recently established plants
Initiative
New plant

Introduction of highly efficient motors

Gas heat pump air conditioning systems

Making layouts more compact

Cutting-edge automated and high-speed equipment
LED lighting

Nisshin Flour Milling Inc.'s Fukuoka Plant

Nisshin Flour Milling Inc.'s Chita Plant

Ma•Ma-Macaroni Co., Ltd.'s Kobe Plant
Adapting to climate change

Global warming is posing a threat of increased damage from natural disasters including water damage from rising sea levels, tsunamis, floods, and concentrated heavy rainfall. We recognize the impact that climate change can have on the Group's business, and we are taking various steps in response. We have the largest network of flour mills and silos in Japan which means it is our social responsibility to provide society with an uninterrupted, stable supply of foods. We work to minimize the impact of disasters on people's livelihoods by carrying out measures to ensure food supply is maintained, such as improving management structures and operating facilities.
The Paris Agreement and UN Sustainable Development Goals (SDGs) agreed in 2015 are accelerating a shift in society toward sustainable development. In order to remain as a Group that is truly essential to society, we need to adapt to the various risks posed by climate change more than ever before. We acknowledge that such action takes time, so we are aiming to integrate environmental management more firmly into our business with the long-term focuses of 2030 and 2050.
Minimizing impact on business
We are implementing measures to minimize the impact on consumers in the event of a disaster by ensuring a steady supply of foods.
In the event that changes in rainfall patterns due to unusual climate conditions cause concerns of potential droughts, we will assess the state of water resources at manufacturing sites and potential impact on supply structures, and take steps to minimize the impact on production.
We are also implementing measures focused on preventing water damage caused by disasters at business sites across Japan. We have used the results of hazard map analysis to predict the impact of floods and tsunamis on 25 business sites and we are ensuring that these sites are ready to act in an emergency by creating countermeasure manuals, procedure sheets, and carrying out training drills.
Preparing for emergencies

Analyzing the impact of natural disasters using hazard maps
Creating countermeasure manuals and procedure sheets for times of disaster
Carrying out regular training in preparation for emergency situations
Positioning key manufacturing equipment on the second floor of buildings or higher
Installing generators in preparation for power outages during disasters
At our Tsurumi Plant, which is Japan's largest flour mill, we are minimizing a potential collapse of the wharf or other damage from berthing ships transporting flour through steps such as reinforcing the foundations of the wharf and its surrounding area. We have also formulated a business continuity plan to fulfill the Group's social responsibility of maintaining food supplies that are essential for society. While our efforts have been primarily focused on responding to tsunamis resulting from earthquakes, we also recognize that they will prove useful in tackling climate change-related risk to ensure stable food supplies.
Introducing heat reflective materials for buildings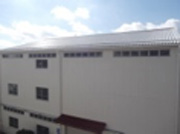 One of the effects of global warming is an increase in the number of extremely hot days during summer. By introducing heat reflecting materials on the roofs and exteriors of the buildings, we are realizing the effective use of air conditioning facilities.
Research on wheat
There is a danger that rising global temperatures, extreme weather events, and changes in rainfall patterns will impact agricultural processes and increase the damage caused by insects and disease, leading to a fall in the quantity and quality of crops.
We will continue to investigate and research the impact of climate change on the quality of wheat flour.