Environmental Management
Basic approach
Recognizing that our business activities affect the entire planet and that protecting the global environment is essential for our survival and activity, we actively take the initiative to protect the environment under the Nisshin Seifun Group Environmental Basic Policy, including initiatives to reduce waste and CO2 emissions and to effectively use resources and energy.
The specifics of our approach to environmental management can be found in the Nisshin Seifun Group Environmental Basic Policy, which was formulated in April 1999 and updated in fiscal 2020.
Raising employee awareness

The newly revised policy emphasizes that the responsible actions of each employee contribute to realizing a sustainable global environment. We ensure that all employees understand the policy and its new elements by providing them with a pocket-sized card showing the environmental policy and carrying out e-learning.
Group environmental management system
Implementation framework
We have enhanced our environmental management framework to ensure that Group activities are managed in a manner that properly considers environmental issues. Our Environmental Protection Committee consists of members from Nisshin Seifun Group Inc. and each operating company, under the leadership of the Director and Division Executive of Technology and Engineering Division. Through this committee and the Environmental Management Group in the Technology and Engineering Division, we practice consolidated management as a group. We are also building a framework for advancing environmental conservation on a Group-wide basis by having each operating company appoint environmental management coordinators at headquarters and workplaces and establish Environmental Management Committees.
Important matters that impact the management of the entire Group, such as climate change, are discussed by the Environmental Protection Committee. The committee then reports to the Group Management Meeting, which includes directors from Nisshin Seifun Group Inc., and the Board of Directors, who deliberate on the matter, with the president taking ultimate responsibility for decisions.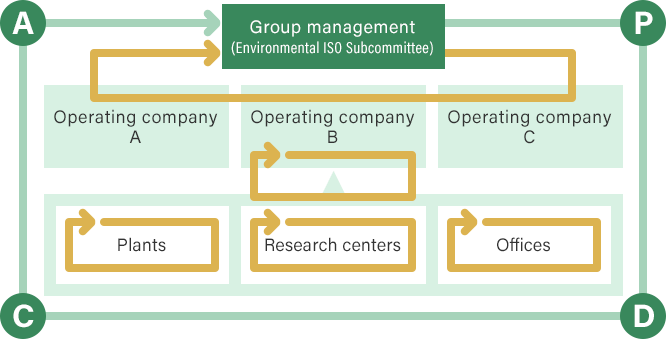 Group ISO 14001 certification
Under the leadership of the Director for Environmental Issues, we implement our Group Environmental Basic Policy to conduct business in an environmentally responsible manner. We evaluate each business site, including offices and plants, for compliance with laws and regulations through internal audits according to our internal standards. We also ensure continuous improvement through a group-wide certified Environmental Management System under ISO 14001.
Scope of certification
Nisshin Seifun Group Inc./Nisshin Flour Milling Inc./Nisshin Seifun Welna Inc./Nisshin Pharma Inc./Nisshin Engineering Inc./Nisshin Associates Inc./Nisshin Grain Silo Inc./Hanshin Silo Co., Ltd./Nisshin Seifun Premix Inc./Ma・Ma-Macaroni Co., Ltd./Oriental Yeast Co., Ltd. (four food products plants)/Research centers/Nisshin Milling Museum/Each department of operational divisions at Headquarters and regional offices
Group certification activities
Environmental protection activities are carried out in accordance with environmental action plans created by each workplace based on Group-wide shared targets and objectives, and workplaces are evaluated on their level of achievement. We also check on the status of activities concerning areas such as compliance with laws and regulations, primarily through internal environmental audits.
All business sites, operating companies, and the Group-wide Environmental Protection Committee each carry out management reviews that evaluate the results of environmental protection activities.
Certification at NBC Group
NBC Group has acquired group certification covering eight business sites, including two consolidated subsidiaries.
Environmental risk management
Environmental audits
We have acquired ISO 14001 certification for all offices, including plants, research centers, and operating departments, and we check the operational status of our environmental management system through both external and internal audits while continuously making improvements. Furthermore, we carry out Group environmental audits in accordance with our own stringent standards to check matters such as compliance with environmental laws and regulations and achievement of targets. As a result, in recent years we have kept the number of improvement orders and recommendations low. We also use issues identified through environmental audits to make continuous improvements in terms of environmental conservation and pollution prevention.
Water and gas emissions generated at our operation sites are measured to ensure that composition and frequency conform with laws, regulations, and the Group's stringent management standards.
All devices that use CFC gases as refrigerants have been listed and are inspected to ensure that they are being managed in an appropriate manner.
All operation sites are checked to ensure they have created emergency response plans preparing for unusual events, such as environmental disasters and accidents, and carry out training drills.
Group environmental audit record
Number of operating companies
Number of sites
Results
Improvement orders
Improvement recommendations
FY2020
16
26
1
0
FY2021
7
9
0
0
FY2022
15
29
6
3
Compliance with environmental laws and regulations
In fiscal 2019, there were no occurrences of or fines related to violations of environmental laws, regulations, or ordinance, including the Air Pollution Control Act, Water Pollution Prevention Act, Noise Regulation Act, and Waste Management Act.
Incidents of CFC gas emissions that were equivalent to at least 1,000t of CO2 were reported in accordance with the Act on Rational Use and Appropriate Management of Fluorocarbons (enacted in April 2015).
We will continue to comply with environmental laws and regulations in Japan and overseas, as well as our Corporate Code of Conduct.
Violations of environmental laws, regulations, and ordinance

| | Violations | Fines/ disciplinary actions |
| --- | --- | --- |
| FY2020 | 0 | None |
| FY2021 | 1 | None |
| FY2022 | 2 | None |