Environmentally Friendly Products and Services
Environmentally Friendly Products and Services
Basic approach
Recognizing that our business activities affect the entire planet and that protecting the global environment is essential for our survival and activity, we actively take the initiative to protect the environment under the Nisshin Seifun Group Environmental Basic Policy, including initiatives to reduce waste and CO2 emissions and to effectively use resources and energy.
We are committed to developing products and providing services that limit environmental impact as much as possible, even after delivery to the customer.
Contributing to the 3Rs (reduce, reuse, recycle)
Promoting the 3Rs for containers and packaging
We provide a range of household use products in a variety of containers. Once the product has been consumed, these containers become waste. We recognize that this has a significant social impact, so we are working to develop containers and packaging that have an environmentally friendly design. When developing or updating our household use products, we evaluate the packaging materials used through safety reviews based on our Policy on the Selection of Environmentally Responsible Packaging Materials.
Examples of 3R improvements
Designs for reducing container and packaging waste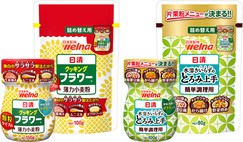 Nisshin Cooking Flower® flour
Nisshin Mizutoki Irazu No Toromi Jouzu (Nisshin Seifun Welna Inc.)
The convenient bottle cap helps to prevent food from being wasted, as the required portion can be shaken out from the bottle, and the cap doubles as a convenient level measuring spoon. It is also refillable, reducing the amount of plastic used in the packaging and minimizing waste through the disposal of used containers.
We also made the bottle thinner and lighter, and both the cap and bottle are partially made of biomass plastic, reducing the volume of fossil fuel-derived plastic used. We also use biomass ink for the packaging of refill products.
Reducing the amount of external packaging
Frozen food products
Ao-no-Dokutsu GRAZIA series (Nisshin Seifun Welna Inc.)
For the Ao-no-Dokutsu GRAZIA series, we eliminated excess packaging by sealing the tray with printed film.
Contributing to household energy saving
We are helping households to lead convenient, delicious, and environmentally friendly lifestyles by providing products and information that help reduce energy use during cooking.

Ma•Ma Quick Cook Spaghetti (Nisshin Seifun Welna Inc.)
Our standard 1.6mm-thick spaghetti products require seven minutes to cook, but our finely-grooved spaghetti, manufactured using the FineFast method, is ready to enjoy in just three minutes. This quick boil spaghetti can be cooked in a shorter time while maintaining an authentic "al dente" taste and texture, reducing the amount of energy used in cooking.
Providing environmentally friendly materials, technologies, and services
Our technology is contributing to making society more environmentally friendly, including design and construction technologies that save energy when the building is used, and advanced processing technologies for industrial and construction materials.
Environmentally friendly design and construction

Nisshin Engineering Inc.
Nisshin Engineering provides plant design and construction based on its plant engineering technology and experience with the aim of realizing the optimum production structure for each customer based on their business plan. This is achieved by carrying out investigations and analysis according to various requirements related to said business plan, including environmental requirements such as energy saving measures. Naturally the environment is also a key concern while construction is underway.
Manufacturing electrode printing materials for solar cells

NBC Meshtec Inc. 
NBC Meshtec is contributing to the higher efficiency and promotion of solar power generation by providing materials for screen printing the sophisticated electrodes needed for manufacturing solar cells.
Creating comfortable spaces using natural forms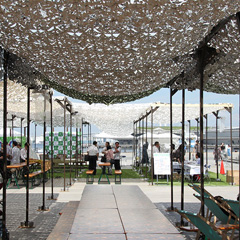 NBC Meshtec Inc.
NBC Meshtec's fractal awning was developed through research into the way sunlight is dappled as it passes through a canopy of leaves. Gaps have been placed in a fractal structure to create a sunshade which realizes a comfortable space through tree-like sunlight dappling and natural ventilation, without using electricity.
* Fractal: A natural geometric structure expressed through a repeating pattern, such as the branches and leaves of trees, coastlines, and mountain ranges.

Improving the quality of rice balls and reducing waste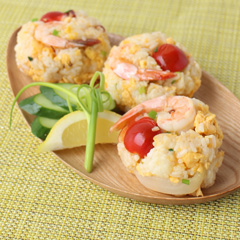 As the types of onigiri rice balls available continues to become more varied, Oriental Yeast Co., Ltd. has developed products for improving their quality. Rice balls made of ingredients containing oil, such as fried rice, tend to crumble easily, so Nice-Rice Yui helps these rice balls to retain their shapes. Nice-Rice Kai makes rice balls made using stickier types of rice, such as sekihan (red bean rice), easier to eat. These products not only improve the appearance of rice balls and make them easier to eat, they also reduce waste caused by crumbly or sticky textures in the manufacturing process.