CSR Principles and Management
CSR Principles and Management
Basic approach
The Nisshin Seifun Group's approach to CSR
We consider the Group's responsibility to society to be the steady implementation of our guiding philosophies of "the basis of business is built on trust" and to "be in tune with the changing business climate," along with our corporate principle of "contributing to a healthy and fruitful life for all."
"The basis of business is built on trust" expresses the foundation of the Group's addressing of its social responsibility, which is to win the trust of stakeholders by listening sincerely to their interests and advancing business that takes the impact on society and environment into consideration.
Furthermore, regarding to "be in tune with the changing business climate," we will address the various issues facing modern society by viewing them as business opportunities with the aim of creating new social value through our business. We will advance these social responsibility initiatives together with all employees and business partners and, in order to contribute to the sustainable development of society, we will engage in the following efforts.
Corporate Governance
We will build and maintain a sound and effective corporate governance structure.

Corporate Governance Policy(131.0KB)

Fair Business Practices
We will work to ensure consistent observance of fair and ethical business practices based on compliance with laws and regulations and respect for international norms. We will build and maintain internal controls systems to achieve this.

Responsible Procurement Policy (188.8KB)

Request to Our Valued Suppliers (Supplier Guidelines)(178.0KB)

Information Management
All information, including personal information, will be managed in an appropriate manner. We will build and maintain the information security systems needed to achieve this.
Disclosure and Dialogue
In addition to continuously disclosing impartial information in a timely and appropriate manner, we will remain conscious of the interests of the various stakeholders connected to the Group by advancing constructive dialogue.
Quality Assurance and Responsibility to Consumers
We will continuously pursue greater customer satisfaction by adopting a consumer-oriented perspective to provide a stable supply of safe, reliable, high-quality, and health-conscious products and services. We will also carry out fair and responsible customer communication and marketing activities.

Voluntary declaration of consumer orientation

Universal Design Policy (Japanese) (72.0KB)

Respect for Human Rights
We will ensure that the human rights of all people connected to our business value chains are respected, including employees, customers, and business partners.

Human Rights Policy(106.6KB)

Employee Satisfaction
We will make work more fulfilling and enhance employee satisfaction by providing safe, healthy workplaces, training and educating employees, and promoting diversity.
Environment
We will reduce the environmental impact of every aspect of our business and work to maintain harmony with the global environment through sustainable procurement and the effective use of resources.

Environmental Basic Policy(122.8KB)

Social Engagement
We will contribute to the development of a healthy, sustainable society by actively engaging communities.
Social Value Creation
We will address customer needs and social issues as business opportunities and leverage all of the Nisshin Seifun Group's various tangible and intangible assets to actively take on business challenges based on new ideas.
Social responsibility objectives and structure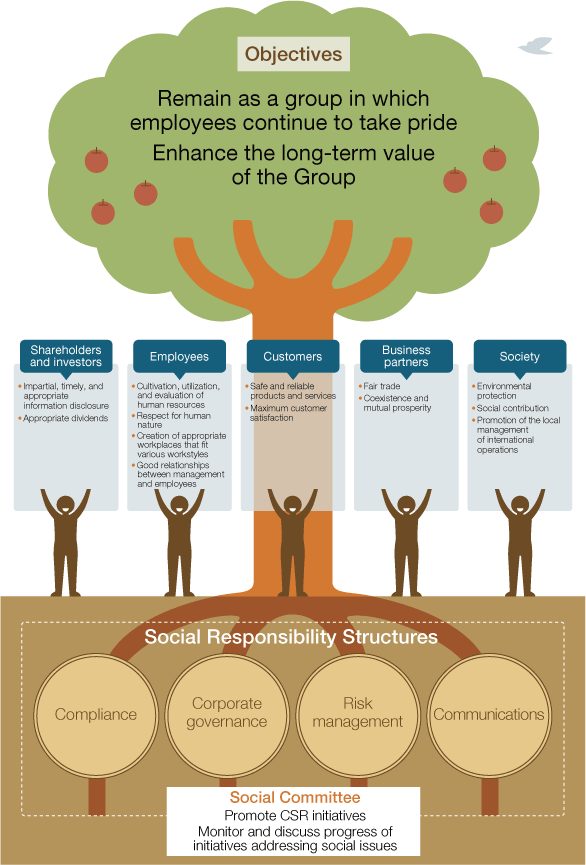 CSR Management
CSR management structure
We have established the Social Committee as a body under the Board of Directors in order to advance corporate social responsibility (CSR) initiatives rooted in the Group's corporate principle and the Nisshin Seifun Group Corporate Code of Conduct and Employee Action Guidelines (Code & Guidelines). The Social Committee carries out the following activities to ensure that the Group maintains the support of our stakeholders (customers, shareholders, employees, business partners, and society) and can meet the demands of society and the times.
Promote CSR initiatives that should be incorporated into the daily duties of all officers and employees of Group companies based on the basic corporate approach and basic employee mindset and behavior standards outlined in the Code & Guidelines.
Verify the effectiveness of systems, structures, and initiatives that implement and ensure compliance with the Code & Guidelines and work to keep these valid and substantial, while also supporting the consideration of new efforts.
Nisshin Seifun Group Corporate Code of Conduct and Employee Action Guidelines
We formulated the Code & Guidelines in October 2002 in order to maintain the trust of society and safeguard our long-term development.
The Code & Guidelines outline the Group's social responsibilities to its customers, shareholders, employees, business partners, and society, as well as the ethical behavior expected of employees.
They provide a reference for use in times when employees have concerns about how to act.
We actively practice the Code & Guidelines to remain as a corporate group that provides value as a member of society, as well as one in which employees continue to take pride.
Propagating the Code & Guidelines
We distribute the Code & Guidelines Card for use as a pocket reference. We also run regular e-learning programs, as well as various initiatives during CSR Promotion Month in October each year. Through these and other initiatives, we raise the awareness of individual employees and enable them to find areas for improvement and make changes for the better independently within the scope of their own work.
We also translate the Code & Guidelines Cards into English, Chinese, Vietnamese, and any other languages needed so that we can keep our employees working all over the world on the same page.
Japanese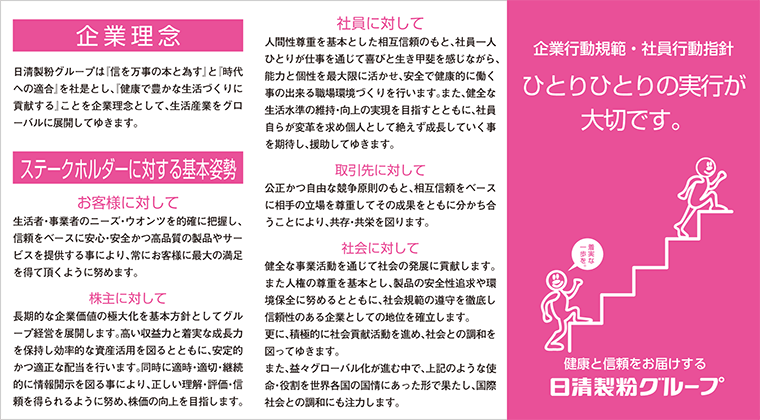 English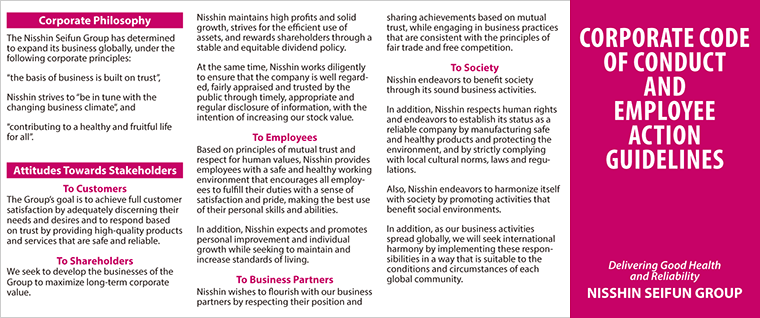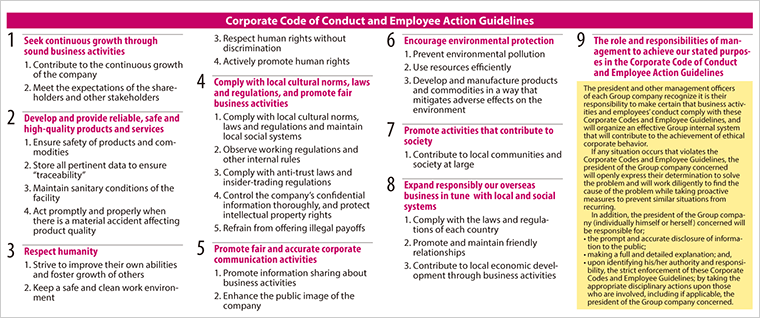 Vietnamese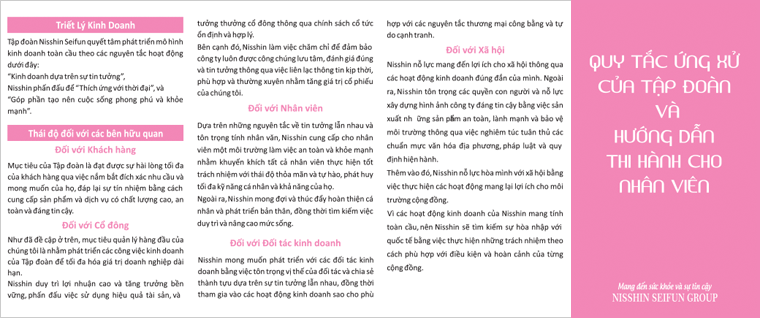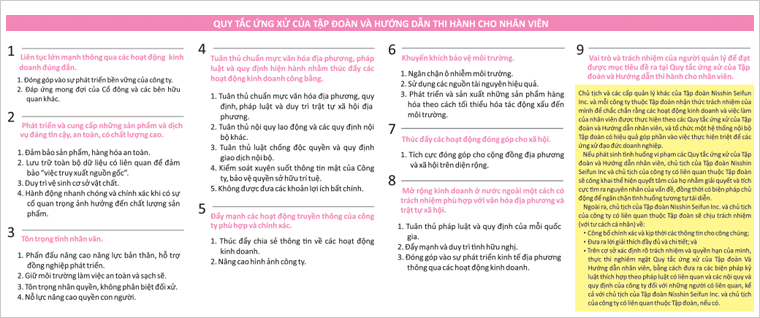 Implementing the Code & Guidelines
CSR Promotion Month
October has been positioned as the Group's CSR Promotion Month in which we encourage active engagement among employees by holding group discussions at each workplace on the theme of compliance with the Code & Guidelines.
These discussions provide employees with an environment in which they can freely share their opinions regarding compliance with the Code & Guidelines.
Compliance Training
We provide seniority-based compliance training for new employees, young employees, and newly appointed management personnel on a yearly basis. This ensures that all employees have a uniform understanding of the importance of compliance with the Code & Guidelines.
Factoring Compliance into Employee Evaluations
Since fiscal 2007, we have included "degree of compliance" as an evaluation factor in employee bonus evaluations to raise compliance awareness within the Group.
Consultation and Whistleblowing System
We respond to reports and other information regarding actions that are potentially in violation of the Code & Guidelines not only from Group employees, but also from people outside of the Group, such as employees of affiliates and business partners of Group companies.