Health Management Initiatives
Health Management Initiatives
We share our health management philosophy with employees and implement health management initiatives that enable employees to maintain good health and high energy levels.
The Nisshin Seifun Group Health Declaration
With employee health as one of our top priorities, we will continue to support our employees so that they can work energetically to reach their full potential.
As members of globally-operating company that assists healthy lifestyles and plays a critical role in building the food infrastructure of the future, our employees are committed both to the maintenance of their own health and the provision of products that help consumers to achieve good health.
July 2019
Our basic philosophy
We define health management as continuing collaboration with employees to create and maintain healthy and energizing environments from which employees can disseminate the value of good health to the world. At the same time, we are working to deliver health to consumers through the products of our Group companies.
Health management requires harmony between good physical health and good mental health. The creation of pleasant and stimulating working environments can be expected to have a beneficial effect on this harmonious relationship between physical and mental health.
Based on this philosophy, we have identified work environment, personal physical care, and mental health care as the three pillars of health management in the Nisshin Seifun Group. We have made health management an important element of our group business plans, and we will continue to implement various initiatives toward the achievement of KPIs in these three areas.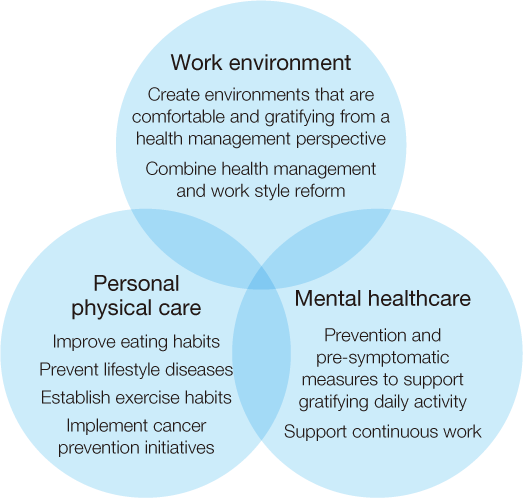 Numerical health management targets for the end of FY 2027
Nisshin Seifun Group Inc. has set health KPI targets of 80 for the three pillars of its health management structure as the basis for a health management PDCA cycle. We aim to achieve these targets, which have been linked to our medium-term management plan, by the end of fiscal 2027.
Working environment: Achievement of a health KPI of 80 based on the results of internal surveys
Person physical care: Achievement of healthy BMIs by 80% of employees
Mental healthcare: Achievement of a score of 80 in a general health risk stress check.
* While these quantitative targets apply to Nisshin Seifun Group Inc., we are implementing health management across the entire Nisshin Seifun Group.* Click here for statistics showing progress to date
Organizational chart
Health management measures are implemented by the Division Executive of the General Administration Division and health management staff in the General Administration Division in collaboration with the corporate health insurance association and the labor union, under a structure headed by the President.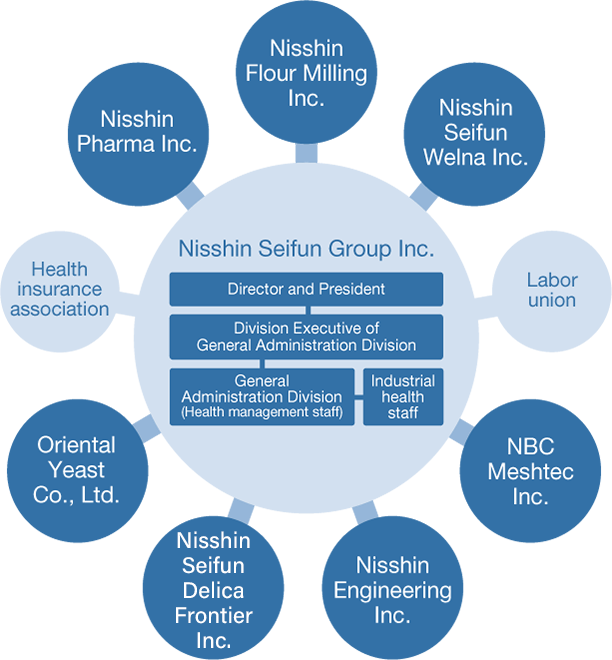 Policy on health management initiatives
Using the three pillars of health management, we are creating an environment in which employees can think independently about their own health.
Work environment
We are implementing flexible workstyle systems, such as remote working, flextime without core time, and paid leave in one-hour units.
Personal physical care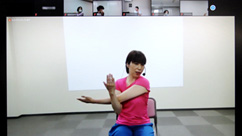 Initiatives include exercise seminars designed to help employees establish workout routines, the acquisition of Smart Meal certification at employee cafeterias, the introduction of health apps, and the provision of chat-style medical consultations focusing on lifestyle disease prevention.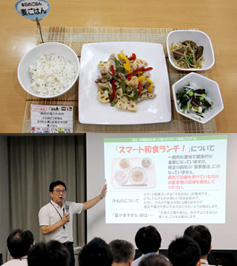 Exercise seminars
FY 2020: Three seminars with 139 participants
FY 2021: Three seminars with 243 participants (held online)
Preventing visceral fat accumulation through the lunch program
Of the 60 people who participated in the program in FY 2020, 70.9% subsequently achieved a reduction in visceral fat.
Introduction of the Health App
The number of users reached 149 in the first half of FY 2021.
<Comment from participants>
"I learned about the correct ways to do muscle training. I'm determined to continue these exercises from tomorrow onwards." (Exercise seminar participant)
"I was happy to learn that instead of simply eating less, I can prevent visceral fat accumulation by adjusting the way that I eat while still eating well. I was motivated by the visceral fat measurement sessions." (Lunch Program participant)
"The app helped me to maintain and improve my health by providing advice each time I entered data about my food intake, exercise, sleep, weight, and other factors." (Health app user)
Mental healthcare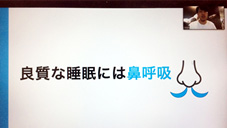 Activities include self-care program based on e-learning, as well as care training for managers, and sleep seminars.
e-Learning
FY 2020: Self-care program attendance rate 81.4%, care training for managers attendance rate 82.8%
FY 2021: Self-care program attendance rate 84.9%, care training for managers attendance rate 83.0%
FY 2022: Self-care program attendance rate 80.1%, care training for managers attendance rate 89.6%
Sleep seminars
First half of FY2021: Two online seminars with 60 participants (held online)
<Comment from a participant>
"I gained a renewed appreciation for the importance of sleep to physical and mental health. I aim to use the techniques that I learned to get some quality sleep." (Sleep seminar participant)
Other initiatives
Data Health Plan
As a new initiative to promote health management and preventive care for the people of Japan under the Japanese government's Japan Revitalization Strategy, all health insurance associations are now required to formulate and publish business plans (known as "Data Health Plans") based on analyses of insurance claims and other information as the basis for a more effective and efficient approach to health maintenance and improvement for their members.
Following the completion of its first Data Health Plan, the Nisshin Seifun Group's health insurance association formulated its second Data Health Plan, which was launched in FY 2019. We will continue to work together with the Group's health insurance association to promote employee health management activities.
Inclusion in the "White 500" List of Outstanding Health and Productivity Management Organizations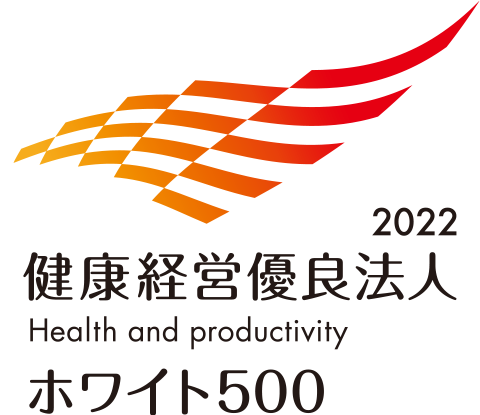 In March 2022, Nisshin Seifun Group Inc. was approved for inclusion in the 2022 "White 500" list of Outstanding Health and Productivity Management Organizations (large corporation category) on the basis of a survey conducted by the Japanese Ministry of Economy, Trade and Industry, in recognition of the company's track record of health management initiatives.
As a result of health management initiatives across the entire group, Nisshin Seifun Welna Inc. and Oriental Yeast Co., Ltd. were both approved for inclusion in the list of Outstanding Health and Productivity Management Organizations (large corporation category) in 2022.
* "Health Management" is a registered trademark of Health Management Study Group, an NPO.