Responsible Procurement
Basic approach
We are committed to the achievement of harmonious coexistence and mutual prosperity with our suppliers, based on fairness, reciprocal trust, respect for other parties' positions, and the sharing of gains. We work to ensure consistent observance of ethical business practices based on international norms.

As is clearly stated in our Corporate Code of Conduct and other policies, we are constantly working to ensure compliance with all laws and regulations, business ethics, and social norms, to contribute to the maintenance of social order, and to achieve business growth in an environment of fair and free competition. As part of our response to society's expectations, we have also formulated the Responsible Procurement Policy and Supplier Guidelines, under which we work with our suppliers to ensure responsible procurement through our supply chains.

Wheat procurement initiatives
Wheat is a fundamental part of our products and services, so ensuring a stable and sustainable supply of wheat is an important issue for the Group. We are carrying out various initiatives to address this issue.
Ensuring stable supplies (Nisshin Flour Milling Inc.)
Cereal procurement for flour milling involves close communication with growers, including verifying the wheat growing conditions in the production area. We are maintaining production sites in the three main countries from which wheat is exported to Japan (United States, Canada, and Australia). This enables us to deepen our knowledge by collecting information directly from wheat production areas, helping to ensure a stable supply of wheat.
Research into the impact of climate change on wheat
We are researching and surveying the impact of climate change on wheat quality.
Environmentally responsible procurement
Selection of packaging materials
The Nisshin Seifun Group has adopted a Policy on the Selection of Environmentally Responsible Packaging Materials. We work with supplier companies to identify the environmental impact of the individual substances that make up packaging materials as the basis for evaluations of environmental footprints. This information is used as an assessment item in safety reviews.
Policy on the Selection of Environmentally Responsible Packaging Materials (Excerpt)
Basic matters:
We will select containers and packaging that provide the required functions while minimizing environmental impact.
We will select materials and designs for which efforts have been made to reduce weight and volume.
We will select packaging and materials that are easy to sort for collection and can be recycled efficiently.
We will select materials that can be reused and collected efficiently at low cost.
We will select materials that do not affect products through odors, etc., and which do not generate toxic substances during disposal by incineration or other methods.
We will select materials with lower environmental impact at the procurement, processing, packaging, and recycling stages.
Paper procurement
We are introducing sustainable packaging, including by using FSC-certified paper.
Example:
The Ma•Ma Special Pasta Sauce Paste type series (Nisshin Seifun Welna Inc.)
We use a paper mix that includes paper from FSC-certified forests for the packaging.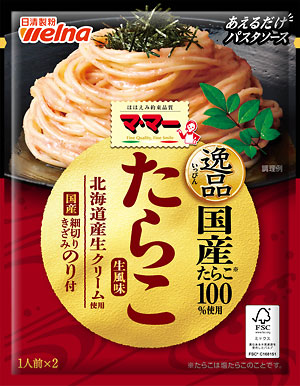 Promoting green purchasing
Green purchasing is the preferential procurement of products and services that minimize environmental impact. Under the Nisshin Seifun Group Green Purchasing Guidelines for Office Supplies, we preferentially purchase products not only the basis of quality and price, but also according to their environmental footprints.

Our internal ordering system has been configured to allow preferential purchasing of paper products that comply with our procurement criteria for products used in offices. With the exception of special-purpose papers, almost 100% of paper used in office automation equipment at Nisshin Seifun Group operation sites in Japan complies with green purchasing standards. In addition to our efforts to reduce paper use through duplex copying and a shift to paperless operations, we also work to conserve the forest resources from which paper raw materials are derived through green purchasing.
Nisshin Seifun Group Green Purchasing Guidelines for Office Supplies (Excerpt)
Purchasing Principles
When purchasing products, consider the environmental impact at all lifecycle stages from raw material extraction to disposal, such as pollutant reduction, efficient use of energy and resources, suitability for long use, reusability and recyclability, sustainable sourcing and disposal.
Purchase products that are manufactured or sold by suppliers that take active steps to protect the environment.
Cooperation with business partners and suppliers
Each of our Group companies is working together with business partners and suppliers to advance responsible procurement activities.
Informing and raising awareness of compliance with policies
We inform suppliers of our Responsible Procurement Policy and Request to Our Valued Suppliers (Supplier Guidelines) and encourage their understanding of and compliance with these policies.
Implementing CSR procurement questionnaires
Since June 2021, we have conducted CSR surveys of the main domestic primary suppliers of Nisshin Seifun Group companies*. The purpose of the survey is to monitor initiatives by suppliers in categories that include human rights, labor, health and safety, and the environment, and to work with them to resolve any social or environmental issues in our supply chains.
We have been providing feedback to suppliers since fiscal 2023 with the aim of raising awareness about our procurement policies and guidelines. If we discover any issues that need to be addressed, we will work alongside suppliers to bring about improvements.
* Nisshin Flour Milling Inc., Nisshin Seifun Welna Inc., Oriental Yeast Co., Ltd., Joyous Foods Co., Ltd., and Initio Foods Inc.
Visits to suppliers (Nisshin Seifun Welna Inc.)
When procuring raw materials, we ask suppliers to submit documentation, such as written raw material specifications, and send employees to inspect their business locations. In addition to confirming the safety of the raw materials, these visits also determine there are no other issues, such as child or enforced labor, as an important part of the process for deciding whether we can start or continue a deal with a supplier based on an understanding of our raw materials procurement policies.
Regular workshops (Nisshin Flour Milling Inc.)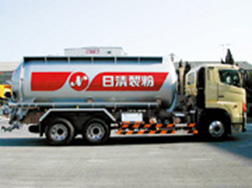 Because wheat flour is loaded directly into tanks on bulk carriers, cleaning methods and schedules have been established to ensure that the interiors of these tanks are always maintained in a hygienic condition. There are also detailed procedures relating to hatches and parts. Nisshin Flour Milling Inc. takes responsibility for the management of this process and holds regular workshops for transportation contractors.
Safety advice (Nisshin Engineering Inc.)
Nisshin Engineering handles the design and construction of production and processing facilities. From a CSR perspective, it also carries out the following activities in relation to subcontractors and other organizations to ensure compliance with related laws and regulations. These activities are implemented in accordance with workflows stipulated in its Project Management Rules.
Requirements relating to accident prevention and capacity building
We have established an Accident Prevention Council made up of persons responsible for coordination and management at individual construction sites with the aim of contributing to the prevention of accidents affecting frontline construction workers. As members of the Accident Prevention Council, both Nisshin Engineering and other concerned parties, such as subcontractors, ensure that safety and health initiatives are implemented proactively. The Accident Prevention Council holds meetings at least once a month to discuss matters relating to industrial accident prevention activities, such as worksite patrols, work-related communication and coordination, and various events relating to health and safety. Workers are informed about the content of these meetings.
Before subcontractors or other parties enter worksites for the first time, their staff are provided with training on matters relating to health and safety, including general safety-related compliance requirements, safety countermeasures based on the nature of the work that they will be performing, and emergency actions and communications.
We have also created the Work Management Standards for Project Partners. These standards stipulate structures to ensure safe, efficient work management, cycles for safety-related actions, and matters relating to work management, and accident reporting.
Checking working conditions for young people
We check whether subcontractors and other parties operating at each construction site are employing young people. If young people are present, we require the parties concerned to comply with related laws and regulations.
Requirements relating to overwork prevention
We prevent overwork by ensuring that subcontractors and other parties operating at each construction site are not forcing their employees to work excessive hours that exceed the regulatory standards.
Checking the status of management in relation to environmental issues
Before using new suppliers, we obtain information about their initiatives on environmental issues. To reduce the workload of the staff concerned, we check whether suppliers have ISO14001 certification.
Employee education
Implementing in-house training on responsible procurement
We carry out training for all employees responsible for procurement, purchasing, development, and other relevant departments at our main business companies in order to deepen understanding regarding social issues, such as environmental and human rights issues, throughout our supply chains, and to ensure compliance with the Group's Responsible Procurement Policy.
Initiatives to raise employee awareness of ethical consumption
Providing fair trade coffee
We provide fair trade coffee at employee cafeterias in the head office region with the aim of contributing to ethical consumption and deepening the understanding of employees regarding ethical consumption and respect for human rights in developing countries. All coffee uses Fairtrade-certified coffee beans sourced from Colombia and Indonesia.
Using sustainable seafood in employee cafeterias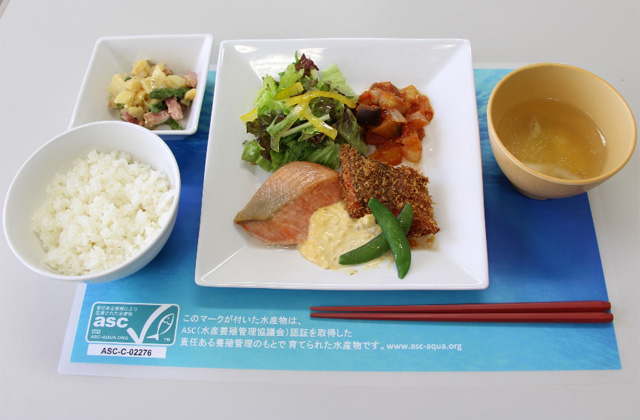 As one of our initiatives encouraging changes in everyday consumption behaviors that also touches on the social issue of aquatic resources becoming depleted through meals, we have acquired MSC and ASC CoC certification for our employee cafeterias in the head office region and created a menu that uses sustainable seafood. Going forward, we regularly provide this menu as an initiative that also contributes to achieving SDG 14: Conserve and sustainably use the oceans, seas and marine resources.