Responsible Procurement
Basic approach
We are committed to the achievement of harmonious coexistence and mutual prosperity with our suppliers, based on fairness, reciprocal trust, respect for other parties' positions, and the sharing of gains. We work to ensure consistent observance of ethical business practices based on international norms.

As is clearly stated in our Corporate Code of Conduct and other policies, we are constantly working to ensure compliance with all laws and regulations, business ethics, and social norms, to contribute to the maintenance of social order, and to achieve business growth in an environment of fair and free competition. As part of our response to society's expectations, we have also formulated the Responsible Procurement Policy and Supplier Guidelines, under which we work with our suppliers to ensure responsible procurement through our supply chains.

Compliance with corporate ethics and social norms
Our employees work to ensure fair transactions by conducting themselves in accordance with laws, regulations, business ethics, and social norms.
Ensuring awareness and understanding of antimonopoly legislation
The Nisshin Seifun Group complies with antimonopoly legislation in all of its activities, including production, sales, and procurement. We are committed to business activities in an environment of fair and free competition. We have compiled an Antimonopoly Legislation Compliance Manual that provides specific case studies based on situations that are likely to arise during sales transactions. We disseminate this information to all employees through seminars and other events.
Compliance with insider trading regulations
Our employees take particular care over the handling of sensitive unreleased information learned in the course of their work activities. They do not use such information to engage in share trading or other dealings relating to the companies concerned.
Fair trading
Prohibition on the illicit provision of benefits
Our employees do not provide illicit benefits, entertainment, or gifts, and they exercise moderation in line with socially acceptable practices in relation to suppliers, industry groups, and other entities. We never accede to unlawful demands from antisocial forces that threaten the order and safety of civil society.

Compliance with the Subcontract Act
We have compiled a manual on requirements under Japan's Act against Delay in Payment of Subcontract Proceeds, etc., to Subcontractors (the "Subcontract Act") to ensure full compliance with the Act as part of our commitment to fair trading. From time to time, we conduct internal audits of related units within the Nisshin Seifun Group as part of measures to prevent any violations of the Act.

Environmentally responsible procurement
Selection of packaging materials
The Nisshin Seifun Group has adopted a Policy on the Selection of Environmentally Responsible Packaging Materials. We work with supplier companies to identify the environmental impact of the individual substances that make up packaging materials as the basis for evaluations of environmental footprints. This information is used as an assessment item in safety reviews.
Policy on the Selection of Environmentally Responsible Packaging Materials (Excerpt)
Basic matters:
We will select containers and packaging that provide the required functions while minimizing environmental impact.
We will select materials and designs for which efforts have been made to reduce weight and volume.
We will select packaging and materials that are easy to sort for collection and can be recycled efficiently.
We will select materials that can be reused and collected efficiently at low cost.
We will select materials that do not affect products through odors, etc., and which do not generate toxic substances during disposal by incineration or other methods.
We will select materials with lower environmental impact at the procurement, processing, packaging, and recycling stages.
Promoting green purchasing
Green purchasing is the preferential procurement of products and services that minimize environmental impact. Under the Nisshin Seifun Group Green Purchasing Guidelines for Office Supplies, we preferentially purchase products not only the basis of quality and price, but also according to their environmental footprints.

Our internal ordering system has been configured to allow preferential purchasing of paper products that comply with our procurement criteria for products used in offices. With the exception of special-purpose papers, almost 100% of paper used in office automation equipment at Nisshin Seifun Group operation sites in Japan complies with green purchasing standards. In addition to our efforts to reduce paper use through duplex copying and a shift to paperless operations, we also work to conserve the forest resources from which paper raw materials are derived through green purchasing.
Nisshin Seifun Group Green Purchasing Guidelines for Office Supplies (Excerpt)
Purchasing Principles
When purchasing products, consider the environmental impact at all lifecycle stages from raw material extraction to disposal, such as pollutant reduction, efficient use of energy and resources, suitability for long use, reusability and recyclability, sustainable sourcing and disposal.
Purchase products that are manufactured or sold by suppliers that take active steps to protect the environment.
Effective control of confidential information and protection of intellectual assets
We fully recognize the importance of confidential information that our employees obtain in the course of business transactions. We effectively control such information to prevent its unintentional and imprudent use or disclosure. We also work to protect intellectual property rights, such as copyrights, trademarks, and patents, and we never violate or illegally use the rights of other parties.

Cooperation with business partners and suppliers

Encouraging appropriate actions by partners and suppliers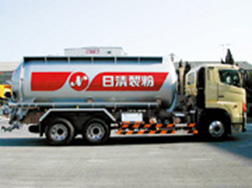 Regular workshops (Nisshin Flour Milling Inc.)
Because wheat flour is loaded directly into tanks on bulk carriers, cleaning methods and schedules have been established to ensure that the interiors of these tanks are always maintained in a hygienic condition. There are also detailed procedures relating to hatches and parts. Nisshin Flour Milling Inc. takes responsibility for the management of this process and holds regular workshops for transportation contractors.
Visits to suppliers (Nisshin Seifun Welna Inc.)
As part of our raw material procurement activities, we ask suppliers to issue written specifications and guarantees as evidence that they are meeting the standards for raw materials. Our development and quality management staff also visit suppliers' facilities to confirm that raw materials comply with our standards.
Safety advice (Nisshin Engineering Inc.)
Nisshin Engineering handles the design and construction of production and processing facilities. From a CSR perspective, it also carries out the following activities in relation to subcontractors and other organizations to ensure compliance with related laws and regulations. These activities are implemented in accordance with workflows stipulated in its Project Management Rules.
Requirements relating to accident prevention and capacity building
We have established an Accident Prevention Council made up of persons responsible for coordination and management at individual construction sites with the aim of contributing to the prevention of accidents affecting frontline construction workers. As members of the Accident Prevention Council, both Nisshin Engineering and other concerned parties, such as subcontractors, ensure that safety and health initiatives are implemented proactively. The Accident Prevention Council holds meetings at least once a month to discuss matters relating to industrial accident prevention activities, such as worksite patrols, work-related communication and coordination, and various events relating to health and safety. Workers are informed about the content of these meetings.
Before subcontractors or other parties enter worksites for the first time, their staff are provided with training on matters relating to health and safety, including general safety-related compliance requirements, safety countermeasures based on the nature of the work that they will be performing, and emergency actions and communications.
We have also created the Work Management Standards for Project Partners. These standards stipulate structures to ensure safe, efficient work management, cycles for safety-related actions, and matters relating to work management, and accident reporting.
Checking working conditions for young people
We check whether subcontractors and other parties operating at each construction site are employing young people. If young people are present, we require the parties concerned to comply with related laws and regulations.
Requirements relating to overwork prevention
We prevent overwork by ensuring that subcontractors and other parties operating at each construction site are not forcing their employees to work excessive hours that exceed the regulatory standards.
Checking the status of management in relation to environmental issues
Before using new suppliers, we obtain information about their initiatives on environmental issues. To reduce the workload of the staff concerned, we check whether suppliers have ISO14001 certification.