Relationships with Our Stakeholders - Social Responsibility 2017
Relationships with Our Stakeholders
Social Responsibility 2017
Nisshin Seifun Group dedicate to gain active support from all stakeholders through communicating with them at various opportunities.
Promotion of consumer-oriented management
We support the efforts towards consumer-oriented management that the Consumer Affairs Agency promotes, and have made a "voluntary declaration of consumer-oriented management" in our group's vision and policies. We have continued effort to increase consumer satisfaction by providing quality assurance responding the consumer perspective in our business activities. We will further put our efforts to providing products and services that are beneficial to the society and environment with an aim to become a company that earns trust from and is selected by consumers, towards creating a sustainable society.
Consumer Dialogue at Plant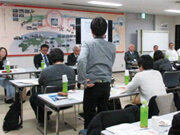 We conducted a plant tour at the Nisshin Seifun Higashinada Plant titled "Learning about food safety efforts and risk communication from a plant tour, etc." jointly organized by the Consumer Affairs Agency, Hyogo Prefectural Government and University Co-operative Kansai-Hokuriku Business Association. 22 university students participated the plant tour and it became a good opportunity to offer a deeper understanding of food safety and active dialogue with experts, consumers including students.
Showing Weat milling process at Kasumigaseki Children's Study Tour Days organized by the Ministry of Agriculture, Forestry and Fisheries, and the Ministry of Education, Culture, Sports, Science and Technology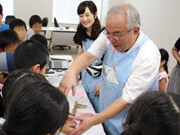 The participants were given the opportunity to learn the nature of wheat and flour and how they are produced while enjoying simple experiments.
Flour homemade cooking class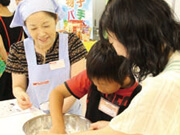 We are communicating to consumers the importance of food through flour and the fun of home cooking.
Toward to improving the dietary habits
The Foundation for the Dietary Scientific Research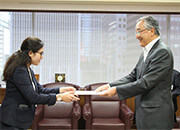 The Foundation for the Dietary Scientific Research, a public interest incorporated foundation that Nisshin Seifun Group, Inc. supports, has been subsidizing research and holding events, etc. for the basic research into food and eating habits. In addition, our support for exchange students to Japanese universities and research organizations, etc., is hoped to lead to new bridges between Japan and the home countries of these exchange students.
Wishing prosperity of the next generation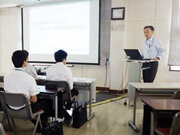 We support the success and growth of the next generation by providing opportunities for career development through educational support of children and internship programs for students.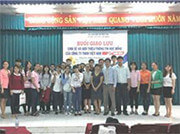 Vietnam Nisshin Seifun Co., Ltd. supports capacity building of the next generation who hold the future by hosting career development seminars for students and providing scholarships to students in need of economic support.
Program of Environment Classes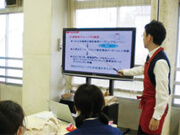 Nisshin Seifun Group, Inc. providing environment classes for junior-high school and high school students. Students learn about environmental friendly behavior from the both stance as the company providing products and as the people who cook and eat food.