Prepared Dishes and Other Prepared Foods Business
Prepared Dishes and Other Prepared Foods Business
A full lineup of delicious treats for the dining table
By leveraging the capability of the Nisshin Seifun group, we create quality products to meet expanding demand for prepared dishes and other prepared foods.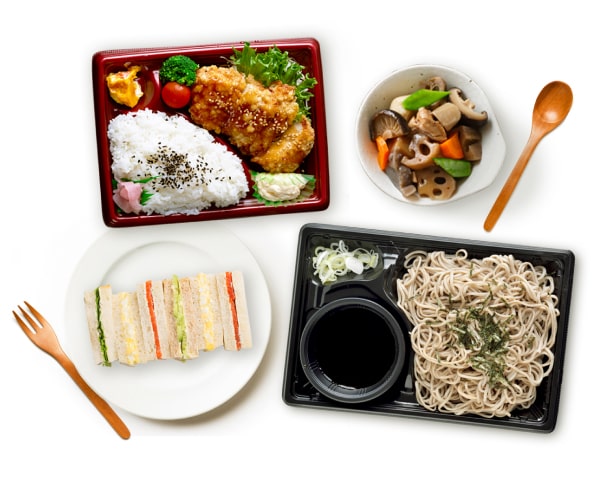 Prepared dishes and other prepared foods are an important growth driver for the Nisshin Seifun group. Today we offer a comprehensive range of products under a full lineup structure covering all prepared food categories, thanks to the addition of Joyous Foods, a leading manufacturer of cooked noodles, and Tokatsu Foods, which supplies an extensive lineup of products, to the Nisshin Seifun group as a consolidated subsidiaries in 2016 and 2019 respectively.
We supply a wide range of delicious prepared food products to consumers nationwide through three group companies. As one of Japan's leading suppliers of prepared dishes, Tokatsu Foods distributes delicatessen products primarily to convenience stores, as well as frozen products supplied mainly through home delivery services. Joyous Foods is an industry leader in terms of its production and supply capacity for products sold in convenience stores, capacity for cooked noodles sold in convenience stores, such as soba, udon, Chinese noodles, and fresh pasta. Initio Foods supplies mainly Japanese prepared dishes to supermarkets and department stores. It is continually expanding its business, including the establishment of new factories in Nagoya in 2017 and Kyushu in 2019.
Prepared Dishes
Prepared dishes are positioned midway between restaurant meals and home-cooked meals. This category includes foods such as bento lunch boxes, deli foods, and pre-cooked and pre-processed foods, that usually have short shelf lives. They can be eaten at home, work, school, and other locations as they are without any additional cooking.
(Prepared by Nisshin Seifun Delica Frontier Inc. based on the information provided on the Ministry of Agriculture, Forestry and Fisheries website)
The growing market for prepared foods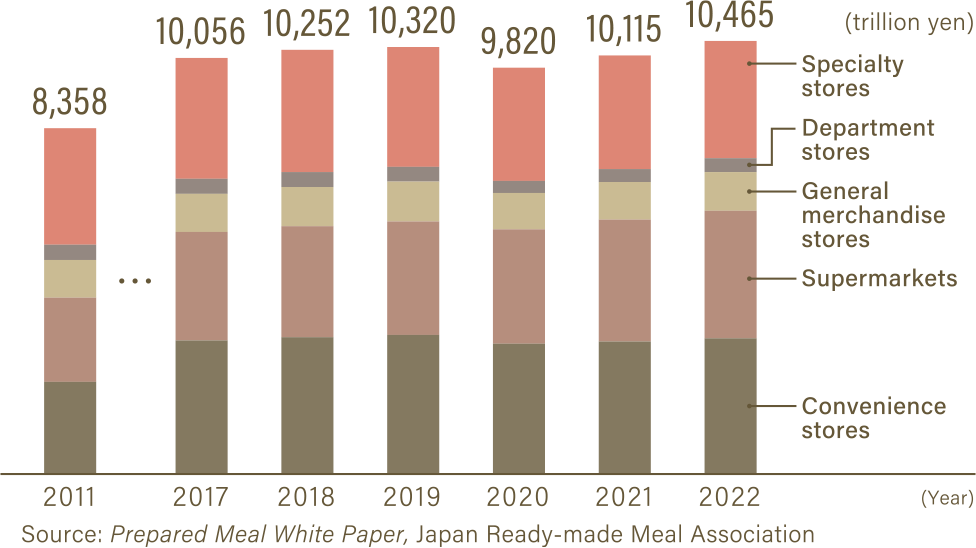 Demand for prepared dishes and other prepared foods is expanding steadily, and the market exceeded ¥10 trillion for the first time in 2017. Although the market shrunk in 2020 due to the impact of the COVID-19 pandemic, it shifted to a recovery trend in 2021 and set a new record of ¥10.5 trillion in 2022. This expansionary trend is expected to continue.
The Nisshin Seifun group will continue to offer a full lineup of quality products in this area.
The Significance of the Prepared Dishes and Other Prepared Foods Business for the Nisshin Seifun Group
Providing Solutions for Society's Needs
Workstyles and lifestyles are changing. There are more single-person and aged households, and more families in which both partners work. Other changes include a shift to remote working and working at home. These trends are also creating new social issues, including a lack of time to spend on cooking, and food wastage resulting from the inability of smaller households to use up food ingredients. The Nisshin Seifun Group is responding to these needs through its focus on prepared dishes and other prepared foods.
Group-level Synergie
The Nisshin Seifun Group supplies prepared dishes and other prepared foods throughout Japan from a network of factories. A commitment to research dating back to the group's founding has created an extensive resource of knowledge about wheat flour, as well as product development and quality control know-how, including antibacterial technology from the Yeast and Biotechnology Business. Today we use the R&D, technology, and raw material procurement capabilities of the entire group to create delicious products with longer shelf lives.
Harnessing the Group's overall capabilities to offer a full lineup structure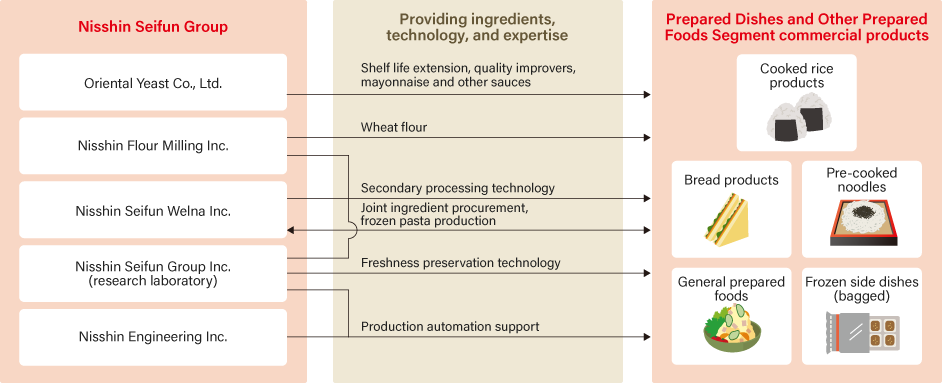 Growth Strategies for the Long-Term Vision
Formulate a potent business model driven by the development of delicious food products and highly efficient manufacturing operations
Affiliates
Nisshin Seifun Delica Frontier Inc.

An intermediate holding company to oversee the Prepared Dishes and Other Prepared Foods Segment

Tokatsu Foods Co., Ltd.

Production and sales of bento lunch boxes, prepared foods, and other cooked foods

Port Delica Tokatsu Co., Ltd.

Manufacture and sales of processed foods, including bread with fillings and toppings, and rice products

Green Delica Co., Ltd.

Manufacture and sales of processed foods, including bread with fillings and toppings, and rice products

Nomura Foods Co., Ltd.

Manufacture and sales of frozen prepared foods, including the Kyo no Osechi, and Kyo Sozai ranges based on traditional Kyoto cuisine

Joyous Foods Co., Ltd.

Production and sales of processed noodles, etc.

Initio Foods Inc.

Production and sales of frozen foods and prepared dishes, direct operation of concessions in department stores