Flour Milling Business
Our Challenge as a Leading Company
With the biggest share of the domestic market,
we form an important part of Japan's food infrastructure.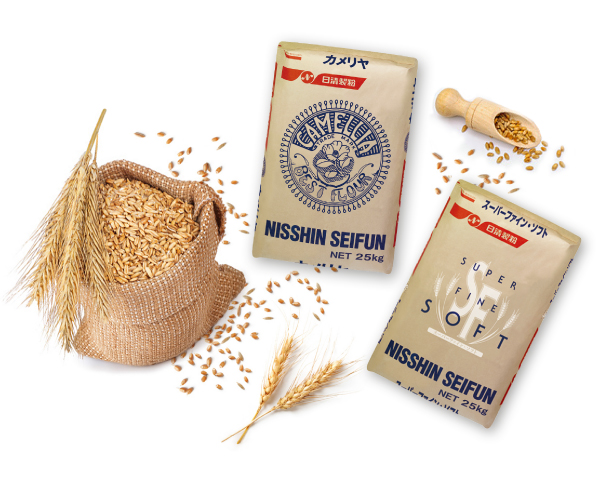 Flour milling is the core business of the Nisshin Seifun Group, and the commercial wheat flour that we produce is a vital food resource. We also supply wheat-related products, such as bran and wheat germ, as well as rye flour and various other food ingredients. As the leading company in the Japanese flour milling industry, we have a social responsibility to enhance productivity and ensure reliability of supply. At the same time, our contributions to the creation of new food culture in Japan, with such products as frozen noodles, Napoli Pizza, and tsukemen (dipping noodles), have helped us to maintain a position of leadership in the Japanese market for many years.
Another area in which we have continually enhanced our capabilities is the proposal of ideas for the development of high-value-added products to meet changing needs. For example, we have established the So-Shoku ("food creation") Club as an online membership site for commercial users of our products. By distributing information through the So-Shoku Club, we aim to create new markets for products that help people to enjoy both delicious flavors and good health, including high-fiber flour, whole wheat flour, and bran. The Nisshin Seifun Group's advanced flour milling technology is an important advantage that helps us to stay ahead of our competitors. Our challenge going forward will be to adapt to environmental changes and global competition by centralizing our production operations at large-scale plants in coastal locations, and by continually reducing operating costs through the introduction of AI and other new technologies.
We are using flour milling and secondary processing technology developed
in Japan to accelerate the growth of our overseas business operations.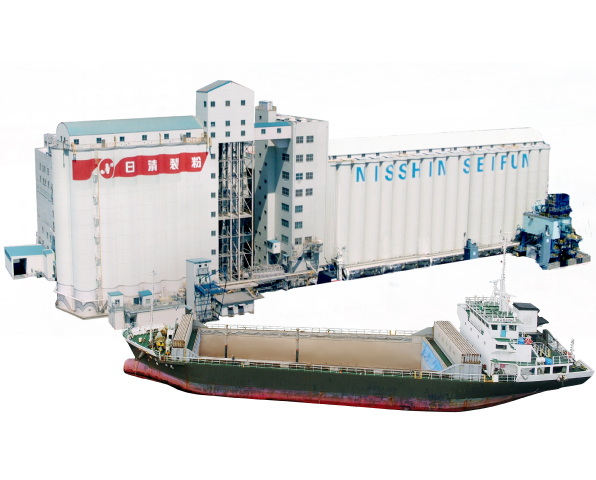 Progress in international trade negotiations, population decline, dietary diversification, escalating global competition, and other factors are driving major changes in the business environment for flour milling in Japan, which imports around 90% of its wheat supplies. As the only Japanese flour milling company with production operations in the United States, Canada, and Australia, which are Japan's three main sources of wheat imports, the Nisshin Seifun Group has a significant advantage in terms of access to knowledge and information about wheat production.
We are also establishing production operations in Thailand and in New Zealand with the aim of securing access to regional markets that offer the potential for future growth in wheat flour demand. Our overseas production capacity has expanded substantially as a result of acquisitions and other initiatives and now stands at 11,040 tons per day, or 1.4 times the level in Japan. We will continue to work with our group companies to build our overseas presence by adapting technology developed in Japan to local markets.
Growth Strategies for the Long-Term Vision
Establish low-cost operations by maintaining the production system and integrating new technologies to set our production cost base at a level that will give us a global competitive advantage.
Establish an overwhelming leading position of leadership in the domestic flour market by meeting customer needs.
Develop new businesses, including the further expansion of our overseas business through the application of our unique technologies.
Affiliates
The manufacture and sales of wheat flour, bran, ready-made and other food-related items

Nisshin Grain Silo Inc.

Management of grain silo operations, responsibility for the efficient and reliable supply of grains

Fresh Food Service Co., Ltd.

Sales of frozen noodle products and development of restaurants that serve wheat flour-related food products

Nisshin Management&Technical Consulting Inc.

Provision of broad support for Nisshin Flour Milling Inc.'s customer services

Kumamoto Flour Milling Co., Ltd.

The manufacture and sales of wheat flour, bran, buckwheat flour, rice flour and premix products, and other businesses
A Canadian company that mills and sells flour for the North American market

Nisshin-STC Flour Milling Co., Ltd.

A Thai joint venture engaged in milling and sales operations in the Southeast Asian region
A US company that mills and sells flour for the North American market
The manufacture and sales of wheat flour, bakery mixes and other food-related items
The manufacture and sales of wheat flour, bakery and cake mixes and bakery-related ingredients